What's better than a nice cold ice cream cone the size of your head after a relaxing day of swimming (ok – floating) in your pool? *Crickets*… That's what we thought… nothing. Here are the top 5 ice cream spots in Winnipeg to cool off at after a day by the pool! 
BDI: Bridge Drive-In
A.k.a Home of the Creamiest Shakes in Town! You better believe it! If you're from Winnipeg, you know there's something special about the BDI. Whether it's where you had your first date, your first ice cream and pineapple combination – the Sleeping Beauty (weird, but so so good), or that nice little walk across the bridge in 30 degree summer heat while you try not to spill on yourself. This is definitely one of our top ice cream picks in Winnipeg! Do yourself a flavor (haha) and add this to your list of places to visit after your pool day! We recommend "The Goog" – GOOGle it, it's all sorts of wonderful!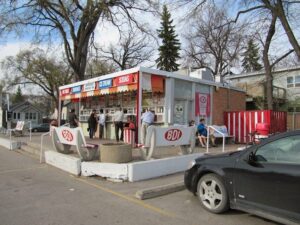 Sargent Sundae
You know it's summer when you drive down Portage Ave to see the line up (and I mean LINE UP) of people waiting outside Sargent Sundae. The overwhelming amount of flavors will have you praying the line up goes slow. Located right across from the Assiniboine Park bridge, this is definitely a popular ice cream shop in Winnipeg! Worth the wait!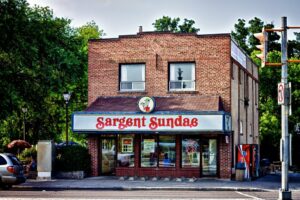 Sub Zero Ice Cream
Two words… PARFAIT HEAVEN. Literally. So many flavours to choose from! And if you happen to bring your four legged furry friend along for the ride, they also have treats for them! One of our go-to's!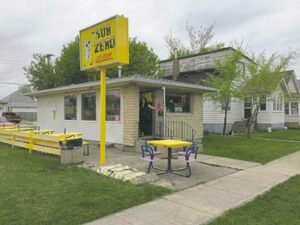 Scoops on Main
Is it just me or does a long day of swimming make anybody else hungry? Well at Scoops on Main, not only can you enjoy an ice cream, you can get a burger at the same time! If you go – ask for the Kathi special! Guaranteed to know what you're talking about (berry banana split with no chocolate – we promise it will not disappoint). Definitely a personal fave!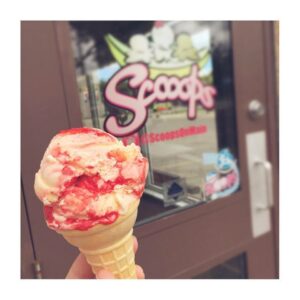 Golf Central
This place should probably change its name to "Flavor Central". A true hidden gem. You walk in and it's literally the Wall Street of ice cream. I'm talkin' huge showcases of ice cream! And – get this, the SMALL ice cream is the size of your head! How's that for a cherry on top!? Located just a short 6 minute drive from Aqua-Tech, it's definitely a must stop after your next water sample! Get the large – we don't judge!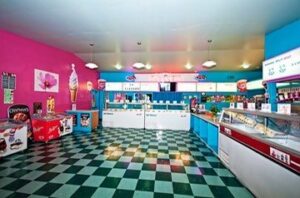 So, there you have it. Our top 5 ice cream shops in Winnipeg to visit after a long day of swimming in the sun! Treat yo' self – you deserve it!