Hot Tub Parts and Accessories
DISCOVER Aqua-Tech's Premium Parts
When your hot tub is struggling to provide you with the experience you enjoyed when it was first installed, it's possible that you need to update some of the components. Most commonly, that means your heater and filter will need to be replaced. Aqua-Tech's decades in the industry mean that we have access to exclusive options and the highest quality products in Winnipeg, including replacement filters for all makes and models of hot tubs. You can turn to our team for advice and installation support, as well as on-going maintenance to ensure your hot tub performs optimally once your new parts are installed.
Your hot tub filter works hard to ensure that your water is always clear and free of body oils, grime and other substances. In order to keep your water as comfortable as it was in the beginning, your filter will need to be periodically replaced. Aqua-Tech stocks filters for all makes and models of hot tubs, not just for Sundance Spas, and we're proud to be able to offer the highest quality options on the market.
We're also Winnipeg's sole provider of filter maintenance and cleaning. A properly cared for filter can double its lifespan compared to one that isn't. Once your filter is replaced, trust our team to provide you with the expert support to prolong the length of time your filter can provide you with beautiful, clean water.
When your pump stops circulating and cleaning your water, you want to replace it with the highest quality and most efficient option that's available. We've selected our range of available pumps from the very best manufacturers so you can rely on your new pump to perform optimally for many years to come.
When it's time to install your new parts, you won't have to look any further than our skilled service technicians. With specialized training and experience with hot tub service and Aqua-Tech's products, you know that our team will be able to easily install your new parts–unlike what you might experience with another contractor.
discover Aqua-Tech's luxurious accessories
Your hot tub is versatile: whether you want to enjoy a relaxing soak to reduce your stress, diminish aches and pains or entertain guests, you can easily personalize your experience at the touch of a button. But another way to ensure that your soak is exactly as you want is by incorporating a few accessories that you can get for your hot tub, all of which are readily available from Aqua-Tech.
When it comes to accessories that can enhance your comfort and relaxation, Sundance Spas manufactures some of the best! Their range of specialty products ensures that you're in the most tranquil state possible. For example, you can find specially designed cushions to provide a boost for users under 5'4″ to prevent floatation. You can also find a range of scents that conjure memories of far away islands to the most relaxed state that you've ever been in. Simply add these to your spa to awaken your senses.
Access your hot tub with ease.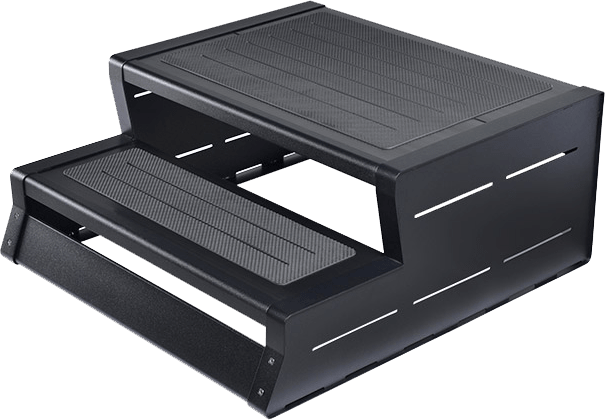 Protect With a Hot Tub Cover
Regardless of whether your Sundance Spa is inside or outside, a hot tub cover is an accessory that benefits every single tub. There are several advantages of relying on a hot tub cover: they help to regulate water temperature and reduce the cost of chemical loss due to evaporation; they help to prevent foreign objects from entering the tub and causing dirt to build up; and they can improve safety by preventing accidental submersion.
It's important that a hot tub cover fit your spa perfectly, otherwise you're likely to miss out on some of these benefits. When you need a replacement cover, turn to our extensive range to ensure a perfect fit and seal. Regardless of size, shape or the customizations that you've chosen, we'll provide you with a cover that will match not just your existing backyard design but that also shows your personality and style.
The range of possible customizations is endless. For example, avid sports fans should ask us about our specially designed covers complete with the logos of your favourite teams. You'll be able to choose from an extensive range of colours, patterns and materials, in addition to your preferred opening and closing mechanism.
Remove Your Hot Tub Cover With Ease
A hot tub cover lift is not only stylish, but also incredibly convenient to use. With this accessory, opening and closing your spa becomes a hassle-free process. Once installed, the lift firmly holds your cover in place, creating a secure environment and providing additional protection to the cover itself. With a cover lift, you won't have to worry about lifting and lowering your hot tub cover, which can be a strain on your body.
It's the perfect solution for those who want to make their hot tub experience as comfortable and effortless as possible!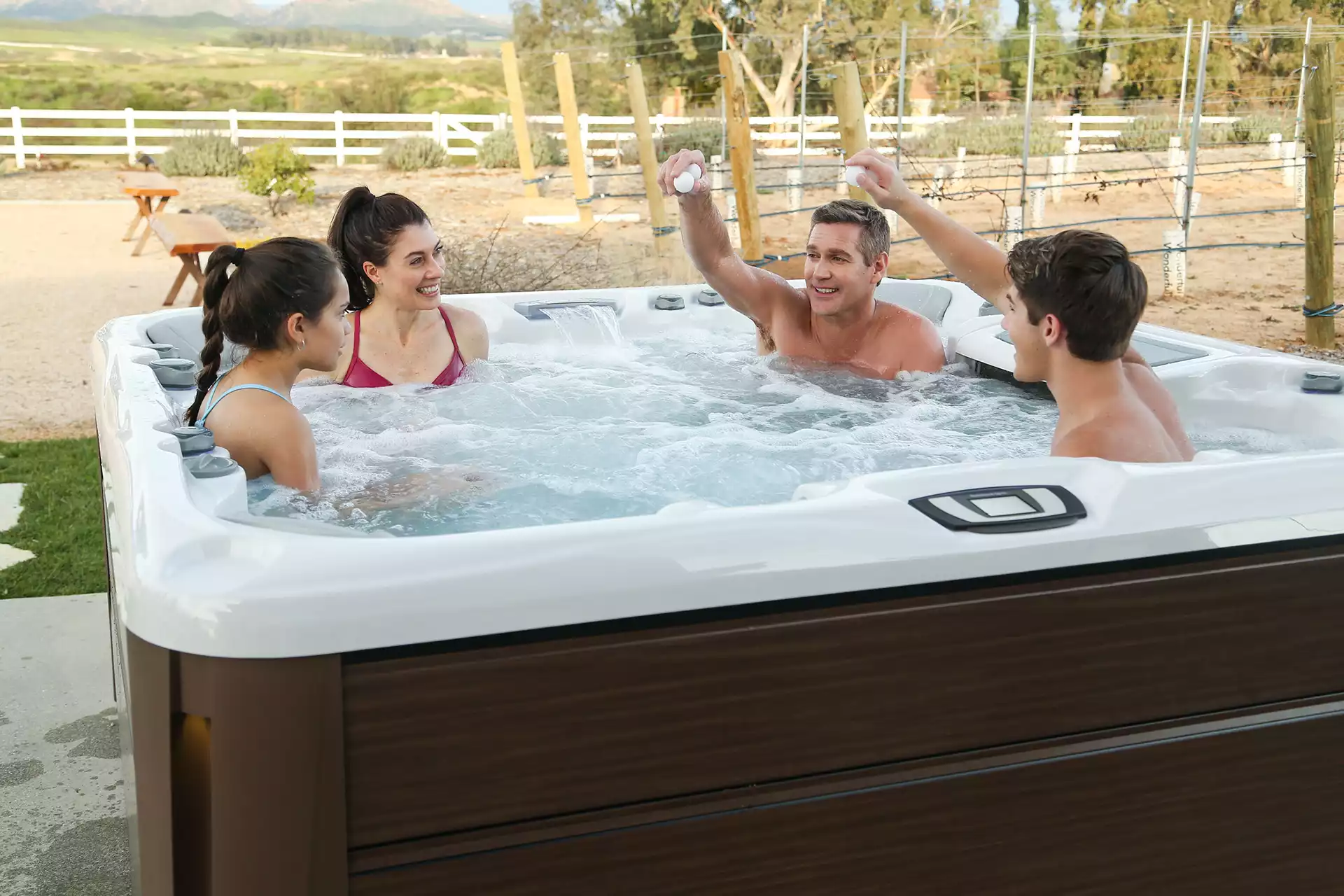 Bluewave™ Spa Stereo System
With Bluetooth technology, you can seamlessly connect your smartphone to the speakers in your hot tub. The BlueWave™ Spa Stereo System is designed to deliver premium sound, allowing you to enjoy your favourite music and hydrotherapy at the same time.
The system comes with a marine-rated seal that keeps moisture out of the docking compartment, ensuring the system is safe from water damage. Additionally, other devices can be connected through an AUX input, while the USB input allows you to charge your device as you listen to music from up to 30 feet away.
Get The SmartTub™ System Today
Elevate your hydrotherapy experience with the SmartTub™ System. Using an app on your device, you can easily connect with your hot tub using this innovative system. Enjoy a simpler and user-friendly approach to maintenance, water care and regular use.
The SmartTub™ System app also provides you with easy access to product knowledge and support when you want to learn more! It also has the capabilities of alerting your dealer when maintenance is required for your spa.
Would you like to learn more about our products, accessories and other backyard essentials? Complete the form below and one of our specialists will be in touch.