Elevate Your Water Experience
We are thrilled to share what's new in our world of aquatic technology. Our dedicated team has been hard at work developing cutting-edge products and services to enhance your water experience.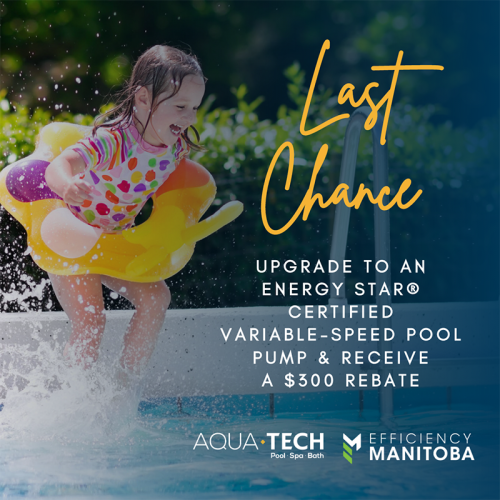 WE NEED YOU AND YOUR LOCAL LOVE!
We are thrilled to announce our nomination for the prestigious "Retailer of the Year" award at the annual Pool Nation Awards. Aqua-Tech is the sole Canadian retailer to be nominated in this division, based on our outstanding commitment to excellence in the pool and spa industry.
At Aqua-Tech, we take immense pride in being a locally-owned business. For 40+ years, we have been serving Manitoba communities with stunning pool and spa installs, whole home renovations, a wide range of water care products, as well as expert advice and exceptional customer service. 
This nomination not only reflects our dedication to our customers, but also highlights the incredible support we have received from our fellow client family. We would like to extend our heartfelt gratitude to the community for embracing and supporting us as a local business. We couldn't have achieved this recognition without your trust and loyalty.
Now, we need your help to bring home the title of "Retailer of the Year" at the Pool Nation Awards. We kindly ask all Manitobans to join us in this journey and cast their votes online. By voting for Aqua-Tech, you're not just supporting us; you're also showing your love for locally-owned businesses and the vibrant spirit of our province.
To cast your vote for Aqua-Tech, please visit poolnationawards.com and follow the instructions to vote for us in the "Retailer of the Year" category. Your vote means the world to us and strengthens our commitment to providing the best products and services to our community.
Voting is open until October 15th, so be sure to cast your vote and help us bring this prestigious award home to Manitoba!