Outdoor BBQs and kitchens are becoming popular in backyard resort design.  Just like your kitchen is the heart of activity inside the home, the outdoor kitchen is the meeting point outside.
We have built many custom kitchens to suit the individual needs of the home owner.  Four of our designers are qualified at designing outdoor kitchens on our 3D design program and are happy to help with all your outdoor kitchen ideas!
To give you a sample of what has been done I've chosen 5 different Manitoba backyards.
Shaped and stone outdoor kitchen idea #1
This large custom kitchen designed by Joe Urmos at Aqua-tech has multiple features.  The top surface on this kitchen is architectural concrete hand crafted by our trades people.
The unique curved shape added so much to the overall look even if it was challenging for the veneer stone facing.  The kitchen features a BBQ, side burner, drawers and doors, fridge and keg spout!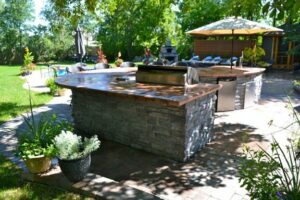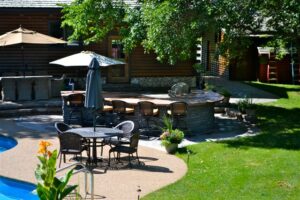 Granite and stone clean outdoor kitchen ideas #2
Outdoor kitchen idea # 3 granite and veneer stone
This St Vital project chose granite for the top surface.  Veneer stone to match the house added to the built in look.  An outdoor stove specifically approved for outdoor use is tucked into the end of the kitchen.  If you decide on a black top for your kitchen include a built in umbrella to keep the heat off the top.

Outdoor kitchen ideas #4: Barkman pillars
If you would like to invest less in your outdoor kitchen consider this option.  A slab of granite supported by two Barkman pillars is very functional and attractive.  The same type of top beside the spa ties it all together and adds a bar at the spa.
Outdoor kitchen idea #5: prefab
You can also choose a prefab kitchen which lowers the labour cost of a custom build.  Aqua-tech has a display model which may have everything you require.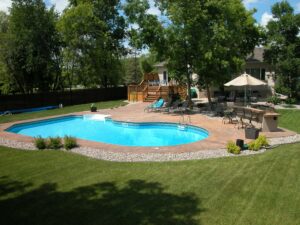 Outdoor kitchen ideas #5: custom design to match existing features you love
This Pritchard Farm residence had the pool but wanted to redo the deck with a hot tub and outdoor kitchen.  The more your home resort has to offer the more you will find yourself there.
The kitchen design was U shaped to suit the house design.  The side of the kitchen is an acrylic stucco to match the house.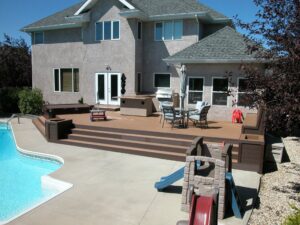 Options are only limited by your imagination!
Start your design process by visiting our showroom today!