Having a hot tub during wintertime? Great! Saving money AND having a hot tub during wintertime? EVEN BETTER! Use a hot tub cover, take advantage of the Aqua-Tech water lab, follow your regular hot tub chemical maintenance program, and check up on your hot tub regularly are just a few of the many ways to save money on your spa this winter!
Use a hot tub cover
Hot tub covers are wonderful creations and should not be overlooked. A hot tub cover can save substantial dollars in your pocket on many occasions. If your hot tub is constantly left open, it gives air for the chemicals inside to evaporate faster. Although it is important to give the chemicals air to breathe from time to time, leaving your tub open will GREATLY increase the evaporation rate of your chemicals – causing you to spend more money on hot tub chemicals. A hot tub cover can also increase the insulation value and contribute to lower heating cost… bonus tip: to keep the water HOT, upgrade to a well-insulated and sealed cover.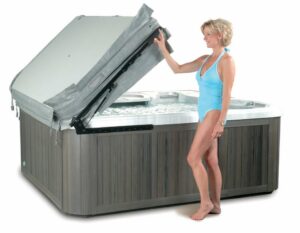 Bring in a water sample regularly and have a regular maintenance program
Sporadic water tests = sporadic hot tub chemicals. Although it may seem like you are saving money by not adding weekly chemicals… YOU ARE NOT! You will notice if you skip your weekly maintenance routine and bring a water sample into Aqua-Tech weeks overdue, you will be sent home with a long list of hot tub chemicals that your hot tub is in desperate need of and even worse, you can put some SERIOUS stress on the internal components of your hot tub. Just as you would in the summertime, use a regular weekly maintenance program and visit Aqua-Tech for advice regularly… you'll thank us later. If you don't feel like braving the cold, we'll pick up a water sample from your doorstep and send you the results via email… awesome, right?! Click here for a sample pick up today.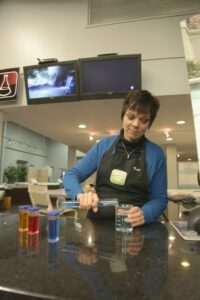 Check up on your hot tub daily – even when you're not planning on using it
Ahh… the dreadful phone conversation our service department has at least once a year. "I have a giant ice cube in my backyard… what do I do???" Two options… provide us with a valid credit card number for a MAJOR fix or donate the cube to the annual Festival Du Voyager for ice carving. Sad but true. If you're planning on operating your hot tub in the winter time, MAKE SURE YOU CHECK UP ON IT DAILY! We cannot stress this enough. Make sure you have the proper hot tub tools on hand in the event of an emergency. If you have a code red and need emergency hot tub service, call Aqua-Tech IMMEDIATELY to prevent further damage!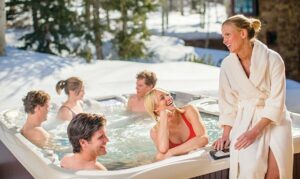 Winterize your hot tub
If you're not prepared or comfortable with the above, we recommend being safe rather than sorry and winterizing your hot tub for the winter. Although it is sad to have to put your hot tub to sleep, Manitoba winters can be cruel to your hot tub therefore you need to provide extra care for it. If you cannot provide the care for your hot tub during the winter time, you will end up spending significant dollars on emergency service, hot tub chemicals, and/or major repairs in the spring time. Click here to book a hot tub closing today.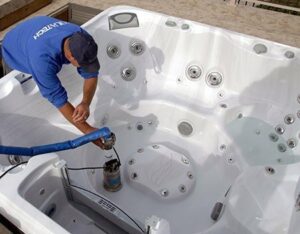 There are many ways to save money on your spa in the winter time… these are just a few. To learn more about hot to save money on your hot tub, visit our showroom and speak with one of our experienced professionals! Happy hot tubbing!