Look Listen & Smell
It's been a cold winter so far but we are about half way through is the good news. That being said it's no wonder why Winnipeg is considered one of the colder cities in the world but we still love our Hot Tubs.  Speaking of which have you had a look at yours lately?  The most important aspect of winter spa maintenance is physically lifting the cover to check that everything is ok.  Do this once a day and Look Listen & Smell.
LOOK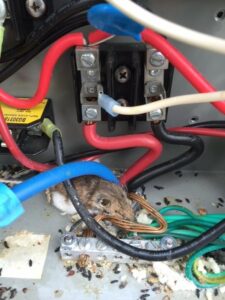 Very often a tripping GFCI breaker can be attributed to something fairly obvious if you have a closer look around the spa.  If your GFCI is outside make sure it is clear of snow.  This has been a winter where space is a commodity with respect to snow load so make sure your GFCI is clear and can breathe.  Have a look at your heater.  Check for visible signs of leaks or water marks of previous leaking.  Leaking heaters can trip your GFCI and shut the spa down causing it to freeze.  Vermin are always looking for a warm place to nest over the fall and the winter so have a look around the equipment area.  If you see any signs clear out the vermin and their leftovers asap to prevent residual damage.  These little guys will chew on wires and make a mess of things.  A shop vac is a great tool to have around to clean up messes.
LISTEN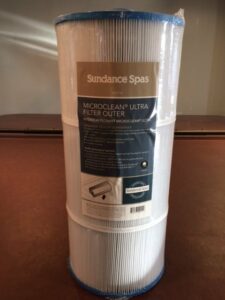 Have a listen to the hot tub with all the pumps on individually.  If any of them sound like they are laboring you could have a plugged up screen or filter that needs cleaning.  In some cases a laboring pump could also mean a plugged up pump impellor or perhaps a motor that is on its way out.  Either way be aware of what sounds are normal and what sounds are abnormal as an early warning system for yourself of potential trouble down the road.  It could just be a matter of topping up the water in the spa to stop a jet pump from cavitating.  Always use genuine factory filters and parts for maximum performance.
Smell
Tell tale sign that something is wrong is if your water has an odd odor so have a sniff when you are out by the spa looking at things.  If you just had the hockey team over for a dip then chances are things could be getting a little out of hand with the water and will be needing a little TLC in the not to distant future.  If you haven't been using the spa for awhile it could be time for a drain and re-fill, filter change or a flush of the plumbing.  Either way you can tell a lot by the smell of the water.
AFTERBURNERS:
-Keep the spa equipment access panels free of ice and snow over the winter in case you have to call in reinforcements to service things for you.
-Have a submersible pump, shop vac, heat gun, space heater and 1 gallon of Bio-guard Antigel nearby in case of emergency winterizations.
-Keep a garden hose long enough to reach the spa from your nearest working tap inside where it is warm and ready to top up your spa in case required.  If your outdoor tap is frozen use your heat gun to thaw it out or have an adapter at your kitchen sink to accept a garden hose.
-Always keep a couple extra containers of your favorite hot tub beverage around because just about every cold Winnipeg night is a great night to go for a soak and check out the stars above.
HAPPY HOT TUBBING!