Fresh fill your spa for the winter
It's that time of year again to consider the condition of your spa water and how you want it look in 3 months time or longer.  Also a time to consider how much you want to work in the dead of winter on the water when it is -35 Celsius outside.
Seriously consider draining your spa towards the end of October or early November when the air temperature outside makes it still relatively easy to deal with water and having it not freeze on you.
Essentials for the winter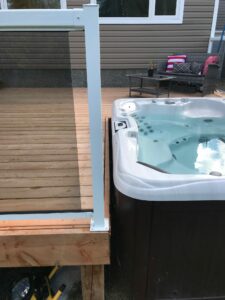 Have the skirt panels directly facing the equipment area of the spa free from snow and ice during the winter in case you need to access this area in an emergency like a power outage or a malfunction of the spa.
Have a shop vac and a subermisible pump nearby and at the ready in case you need to drain your spa and vacuum the shell.
Have the tools nearby and ready to remove the skirt panels required to access the equipment area.
Keep snow and ice clear of your main outdoor GFCI box.
Lift the heatshield hot tub cover every morning and check for water movement and that all pumps function and the heat is on or at set temperature.
Winter spa tip of the season           
Consider disabling/disconnecting your ozone unit and ClearRay Uv unit for the winter.  If either of these units malfunctions during the winter they can create a short and trip your GFCI.  Your spa will run fine during the winter months  without these two items in operation.  Always test your water 1 x month during the winter at our lab 1065 Dugald Road.