Winnipeg pools have come a long way from when I first started in this industry 40 years ago. There were only three shapes available when I began and two options… a slide and a diving board. Like almost every industry, the pool business has evolved to include hundreds of choices and options. Our price book for 2016 pool installations is now over 50 pages of options and accessories. Read more for more information on what Winnipeg pools will be like in the future.
To examine future trends of Winnipeg pools, we should first look at current trends and enhancements. Winnipeg pools of the future will likely expand on the latest trending options. Here are some of the current trends:
Heat pumps as opposed to natural gas pool heaters
Global warming is in the news more than ever and it seems political leaders are more determined to limit greenhouse gases. Heat pumps saw a big surge this year in sales and this could be part of the reason. In the future, the heat pump's efficiencies will be even more pronounced and demanded.
Automatic pool covers
We want convenience more than ever and I don't see that changing. When with the flip of a switch your pool is covered or uncovered as opposed to the 5-10 minutes with a manual cover. It also adds a level of safety which is also a trend. We are more protective of our children than ever before and that trend is likely to continue as well.

Beach entries into pools
Pools are popular because of the clear safe water as compared to some beaches. However who doesn't like sitting in 6" of water at the beach and soaking up some rays? A beach entry into a pool allows this experience. It's also a great area for smaller kids to play or for adults to lay around with their favourite beverage.

California pool look
Winnipeg pools used to and can look like prefab pools. Now you can get concrete coping and stairs built into the steel wall so the architectural look mimics concrete pools. With people having access to pictures worldwide they see what others have built and have challenged us to replicate that look. With Winnipeg's expansive clay soil we are still capable of having a vinyl liner for durability but a much superior architectural appearance.

Water features
There's something about moving water that appeals to the senses. Imagine a hot summer day and playing under the water fall or relaxing at night with the soothing sound of water laminars.

Lighting
Imagine a dramatic backyard with professional lighting compared to one without. My wife and I often sit beside our fire pit table at night with the patio heater on and a glass of wine…without the lighting it's not the same.

Fire pit tables
Like moving water, moving fire has a positive effect on our psyche.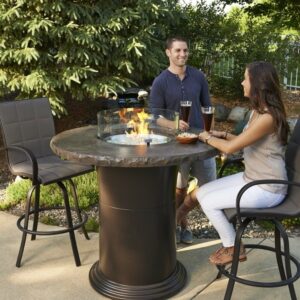 Automation
Like everything else… there's an app for that! You can now operate your pool equipment remotely from your smart phone. Setting the pool temperature or initiating the waterfalls can be done from the office. Cameras are now very affordable so you can see if your teenage kids are in the backyard as well.
Ok, so now where do we go from here?
Future backyards
Definitely advanced versions of the latest tends above will be incorporated into future Winnipeg pools and backyard personal resorts. Backyards are getting smaller now so I see more people wanting swim jets to swim against for exercise since the pool is smaller too. These jets are very powerful but controllable so you can set the velocity to your swimming capability.
Another future trend that is just starting is higher end but practical patio furniture. The backyard is a room you will use for four months in Winnipeg. You will want the patio furniture to be comfortable and stylish as you spend more time out of the water than in the pool. The most recent trend is furniture that is wicker with marine leather (same leather as the yacht industry) It looks like indoor furniture so you can use it indoors if you wish for the rest of the season.
Custom work is in high demand and will continue to be. Look at the homes today and you see many of us want our own personal stamp on our personal property. Tomorrow's factories are much more nimble than yesterdays…..custom work can be manufactured more promptly now so your pool can be as unique a shape as you want it to be.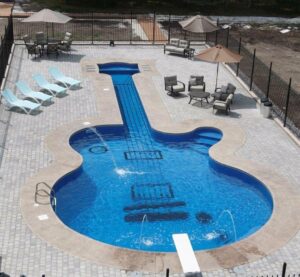 We try to follow the customer's imagination best we can so if one can dream it we can build it!