It's something that most people don't even think about, but it happens to each and every one of our pools at some point throughout the season.  Evaporation and heat loss.  You can't often see it (unless there is a major temperature change outside), but the operational costs of running your pool will feel the effect.  Heat loss is obviously noticeable to feel in a pool, but what about evaporation?  When you lose water to evaporation, you have to place your hose in the pool and top off water levels with source water.  As you may know from your own experiences with water testing, in some cases, the contents of your source water can cost a pretty penny with the necessary adjustments it needs due to metal or phosphate contents from the tap.  You basically have to start the balancing process over again when you lose water to evaporation.  Protecting your water from evaporation is a cost effective way to reduce these unnecessary top-ups and water chemistry adjustments.
Take two pools in the same geographic area, one with a solar cover and one without. Compare the costs of heating that pool and you will find a major difference due to the use of a solar cover (see chart below):
Table 1. Costs of Outdoor Pool Gas Heating by Location*
Location
Season

Temperature

78°
80°
82°
Miami
1/1–12/31
$2136
$2848
$3600
w/cover
1/1–12/31
$416
$584
$800
Phoenix
3/1–10/31
$1384
$1776
$2216
w/ cover
3/1–10/31
$96
$168
$256
Dallas
4/1–10/31
$1512
$1920
$2456
w/ cover
4/1–10/31
$184
$280
$408
Atlanta
4/1–10/31
$1704
$2248
$2880
w/ cover
4/1–10/31
$320
$424
$592
Los Angeles
5/1–10/31
$1864
$2376
$2904
w/ cover
5/1–10/31
$168
$304
$472
Kansas City
5/1–10/31
$1434
$1872
$2384
w/ cover
5/1–10/31
$288
$416
$544
New York
5/1–9/30
$1448
$1904
$2384
w/ cover
5/1–9/30
$208
$296
$400
Chicago
5/1–9/30
$1621
$2072
$2536
w/ cover
5/1–9/30
$216
$296
$384
Denver
5/1–8/31
$1757
$2120
$2498
w/ cover
5/1–8/31
$123
$168
$243
Boston
5/1–8/31
$1712
$2096
$2504
w/ cover
5/1–8/31
$232
$328
$461
Minneapolis
6/1–9/30
$1331
$1776
$2176
w/ cover
6/1–9/30
$192
$248
$384
San Francisco
6/1–8/31
$1560
$1856
$2168
w/ cover
6/1–8/31
$192
$320
$472
Seattle
6/1–8/31
$1525
$1784
$2056
w/ cover
6/1–8/31
$304
$424
$552
*Figures based on a 1,000 square-foot, outdoor pool heated with an 80% efficient natural gas heater at $.80 per therm and uncovered for 8 hours per day.
Source:  http://energy.gov/energysaver/articles/gas-swimming-pool-heaters
This correlation to heat and energy loss is so strong that the government has actually started stepping in with new regulations regarding the reduction of energy loss in new construction pools that intend to install a heater. These regulations include requiring the use of a solar cover, or a liquid product that may obtain the same results as a solar cover.  While the use of a solar cover every day sounds like a good idea in theory, it is commonly known that most end up in a messy ball in the corner of the backyard, covered with dirt and grime.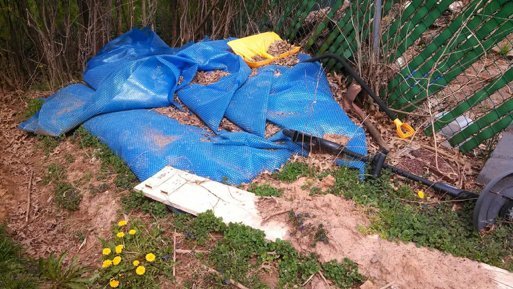 The alternative option, a liquid solar cover, can provide the benefits of a physical cover with the convenience of a liquid application.  It creates an invisible lid at the surface of the pool to trap in heat and prevent evaporation.  Believe it or not, these liquid solar products are sometimes even more effective in-season than a cover due to the fact that they are able to work while people are swimming in the pool or if the cover was left off by accident on a cool night.
While liquid products do a great job to protect the heat that you have gained throughout the day, they will not "heat" the water on their own. They are simply going to help keep the heat you've gained and prevent water loss that is a result of evaporation. A good trick is to use your solar cover in conjunction with a liquid product to kick the season off quickly, and then settle into an easy maintenance routine of a liquid product throughout the rest of the season. Your kids and your wallet will thank you!