Download the FREE Ebook 6 Common Salt Water Myths? Discover the Simple Truths Behind Keeping Your Salt Water, Safe, Sparkling and Clear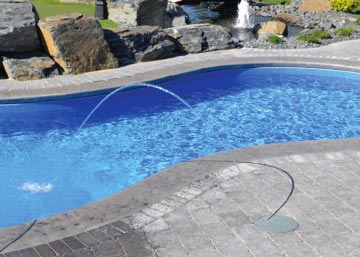 Salt water pools require special care to preserve the perfect balance. When you choose Aqua-Tech as your salt water care partner, you'll be able to access the best quality salt water pool products on the market as well as the expertise we've gained in our decades of maintaining ideal water chemistry: a combination that you just won't get anywhere else in Winnipeg.
Salt Water Pools' Unique Requirements
Salt water pools are becoming increasingly popular as pool owners search for alternatives to traditional water care products. However, salt pools require their own specific maintenance schedule. Ensuring you understand the intricacies of managing your salt water system is paramount to preventing common problems that will cause you to lose days of swimming. Visit us to learn how our exclusive Pristiva system will ensure that you pool offers you the incredible experience you want all season long: clean, clear water that's gentle on your body, your pool structure and the environment.
Maintain Clear Water in 15 Minutes a Week
When you want to make sure your water is balanced or you're facing a problem, we can help. Our water testing facility analyzes 13 different parameters where traditional tests only look at five. This gives you a comprehensive picture of what's happening in your pool and gives us all of the information we need to make corrections.
Ensuring that your salt water pool stays swim-ready all season long is a priority for Aqua-Tech and it's why we create simple to follow, programmed approaches to water care for our salt pool owners. By following our guidance and using our high quality salt water care products, you'll be able to ensure your salt pool stays sparkling all season in just 15 minutes a month.

I found satisfaction in employing the "three step, 20 minute work week", which I religiously followed. The bargains on pool chemicals and products were a great saving. Thanks to the water analysis staff for all your help.

— J and D K.

For all of your salt water pool requirements, make sure you turn to the experts.Visit us today, or contact us to learn more about how we're able to help you get the most out of your swimming pool.