Transform Your Pool with Eco-Friendly Products
Chemical Alternatives for Your Water
With Aqua-Tech, you can take advantage of an alternative approach to pool and spa care. We have a wide range of alternative solutions to traditional water care products. We have created a tailored approach that relies on safe, gentle and eco-friendly products. Our experts can design a pool and spa care routine just for you. In just 15 minutes a week, you can reduce your chemical usage and maintain enjoyable water.
Explore New Water Care Options
Did you know that you can use enzymes to maintain the ideal water chemistry? This is just one of many alternatives you can choose from, and when you visit us we'll be able to demonstrate how effective these innovative and more natural options can be.
You'll be able to explore the wide range of nature's cleansers that are available. You can also access all the information you need to choose the best maintenance option to ensure that you and your family maximize your enjoyment of your pool.
Aqua-Tech's Exclusive Products
Over the course of our decades in business, we've established long-term relationships with our suppliers. The result for our customers is that you'll now get access to amazing new products and innovative equipment, helping reduce the time it takes to maintain your perfect swimming environment.
For more information about the alternative water care products that we carry for pools and spas alike, contact us or visit our showroom today!
Struggling With a Problem?
Join our community and get answers to common questions, discover how other people have been successful, and learn more about what's causing the issues you're facing.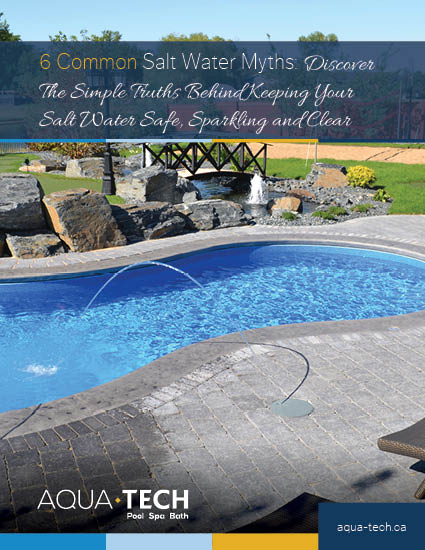 Download the FREE Ebook 6 Common Salt Water Myths: Discover the Simple Truths Behind Keeping Your Salt Water, Safe, Sparkling and Clear
Salt water can dramatically increase just how much you love your pool—but it isn't as easy as installing a salt cartridge and turning it on. When you download the FREE ebook 6 Common Salt Water Myths: Discover the Simple Truths Behind Keeping Your Salt Water, Safe, Sparkling and Clear, you'll learn:
Dedicated to Customer Satisfaction
Don't just take our word for it. See why our customers love us!
Very happy with the experience
A huge contributing factor in us deciding to go with you was your conviction that once you start a job you stay until you're finished. We're very pleased!
Your staff is always courteous—this in turn builds customer confidence in your company as well as trust. Kudos to Kathi and Al as well as the water lab!
The service was excellent..
As you know, we discovered at the beginning of the summer that our pool liner needed replacing. The excellent service and price that we received from you was awesome.
Our experience has been fantastic!
It was David's leadership skills, efficiency and communication skills that enabled us to laugh at the weather and wait the arrival of our new pool liner with anticipation, not frustration.
The pool and decking ended up being better than we expected and the project was done in the exact amount of time we were told it would be.
Definitely Do Business Here Again
The people in the crew were friendly and co-operative doing excellent work and cleaning up the jobsite as well. As in my past experience, Aqua-Tech has again done a first rate job. I look forward to referring your company to friends and acquaintances.
This letter is in regards to the excellent service we have received from Aqua-Tech. Whenever we have had problems we have phone and talked to either Rob or Dave and they have been very courteous and helpful.
I think the best part of the spa is that it is a great family conversation place and a chance to enjoy the starry sky. We are extremely satisfied with the quality and the design.
Request Water Care Assitance
Our team understands how frustrating it can be when your spa isn't working properly. We'll work hard to get it back in peak operating condition for you and your loved ones.