For all of us pool people, there will come a day where you want to give your staycation destination a makeover. Times change, styles change and lifestyles change. Renovating your pool, especially vinyl liner renovations, can help you address those changes, while still having a rewarding constant.
Renovating your pool can give it a whole new look, allowing you to fall in love with it all over again. Beyond aesthetics, a pool remodel can help you add new features to make it more fun or accessible for loved ones. Similarly, a remodel could involve adding upgrades (such as a heating element) that can help you get even more use out of your pool – not just during warmer months! And if you're considering selling your home in the future, remodelling your pool can help increase your overall property value, not to mention the priceless memories that can be made in the present.
Need some inspiration? Check out our list of pool remodel before and after photos and get tips for planning your pool renovation project.
Before: Dirty Decking
While this well-maintained pool is crystal clear, the dingy decking makes it less inviting than it could be. Worse yet, a lack of decking and wet feet traipsing through the dirt means guests can track mud into your pool, making maintenance a headache. Replacing decking around your pool can help rejuvenate its appearance, providing a more beautiful setting to frame your pool.
After: Driftwood-Style Decking & New Ladder Stairs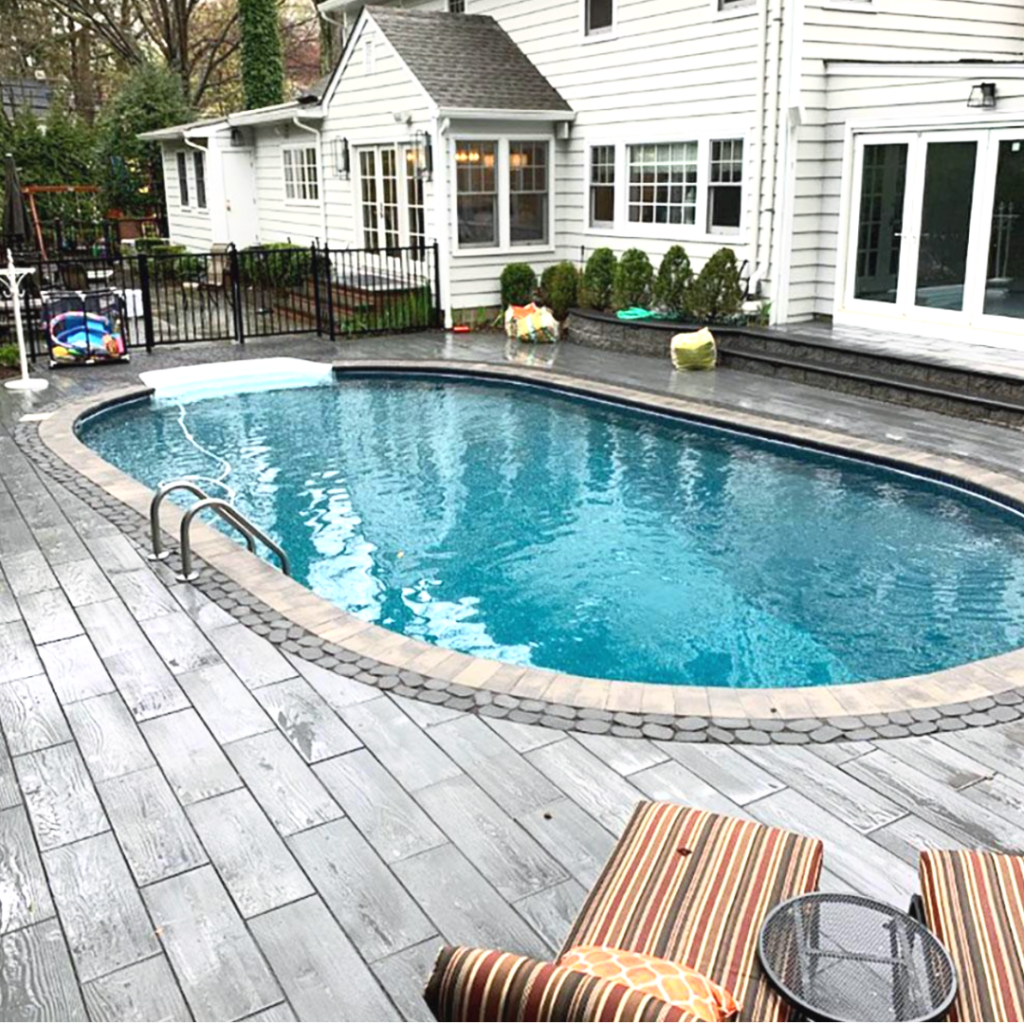 If you have a vinyl liner pool, a well-maintained liner can last for 10 years. Older liners can sag and flag, putting a damper on the fun and making your pool unusable. Crumbling coping and cracks in the concrete decking around the pool also pose a safety hazard.
---
Before: Flagging Liner and Cracked Concrete Decking
If you have a vinyl liner pool, a well-maintained liner can last for 10 years. Older liners can sag and flag, putting a damper on the fun and making your pool unusable. Crumbling coping and cracks in the concrete decking around the pool also pose a safety hazard.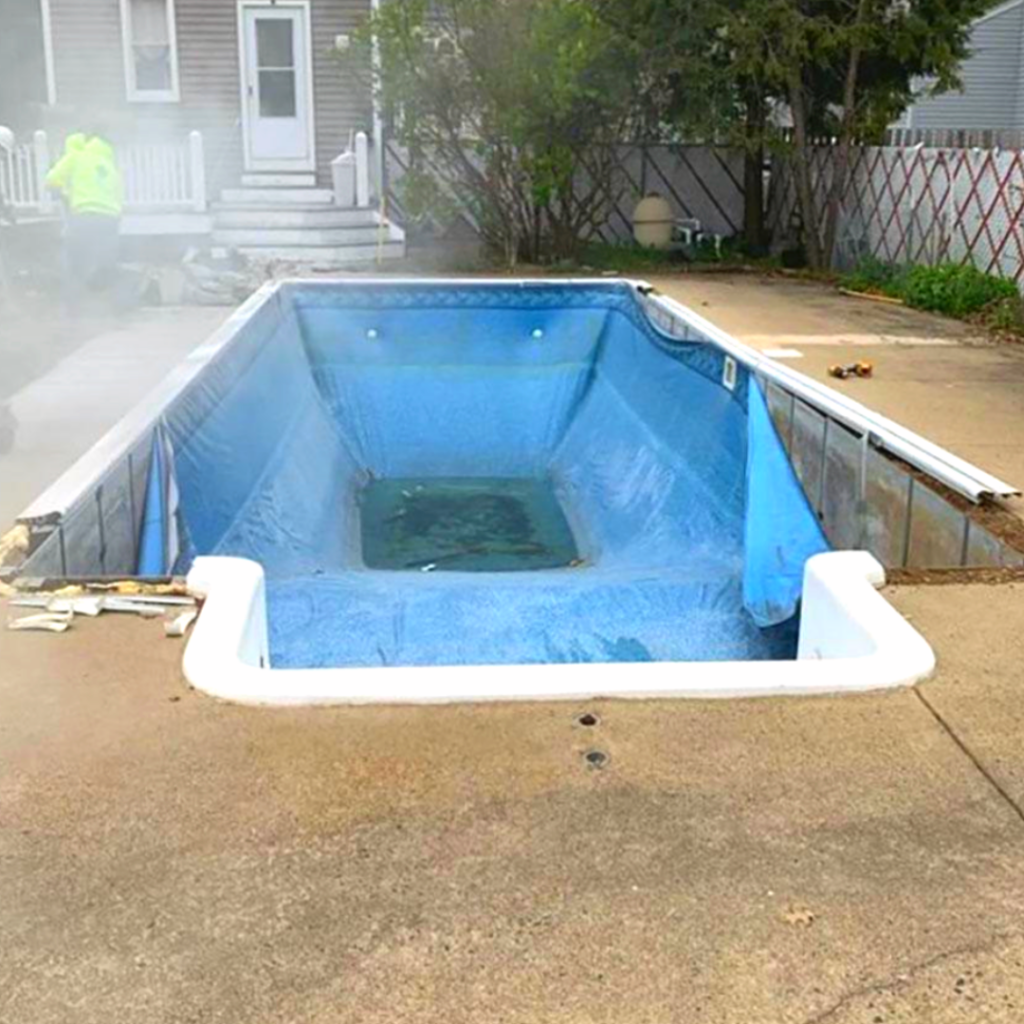 After: A Fresh Look with a New Liner and Decking
Swapping out a worn vinyl liner for a fresh new one, plus new decking and coping helped restore this plunge pool to its former glory. Deep charcoal coping creates a gorgeous contrast against slate grey decking for this grand, modern-Roman-style plunge pool. New decking also presented an opportunity to install an additional entry/exit at the far end of the pool with metal ladder stairs.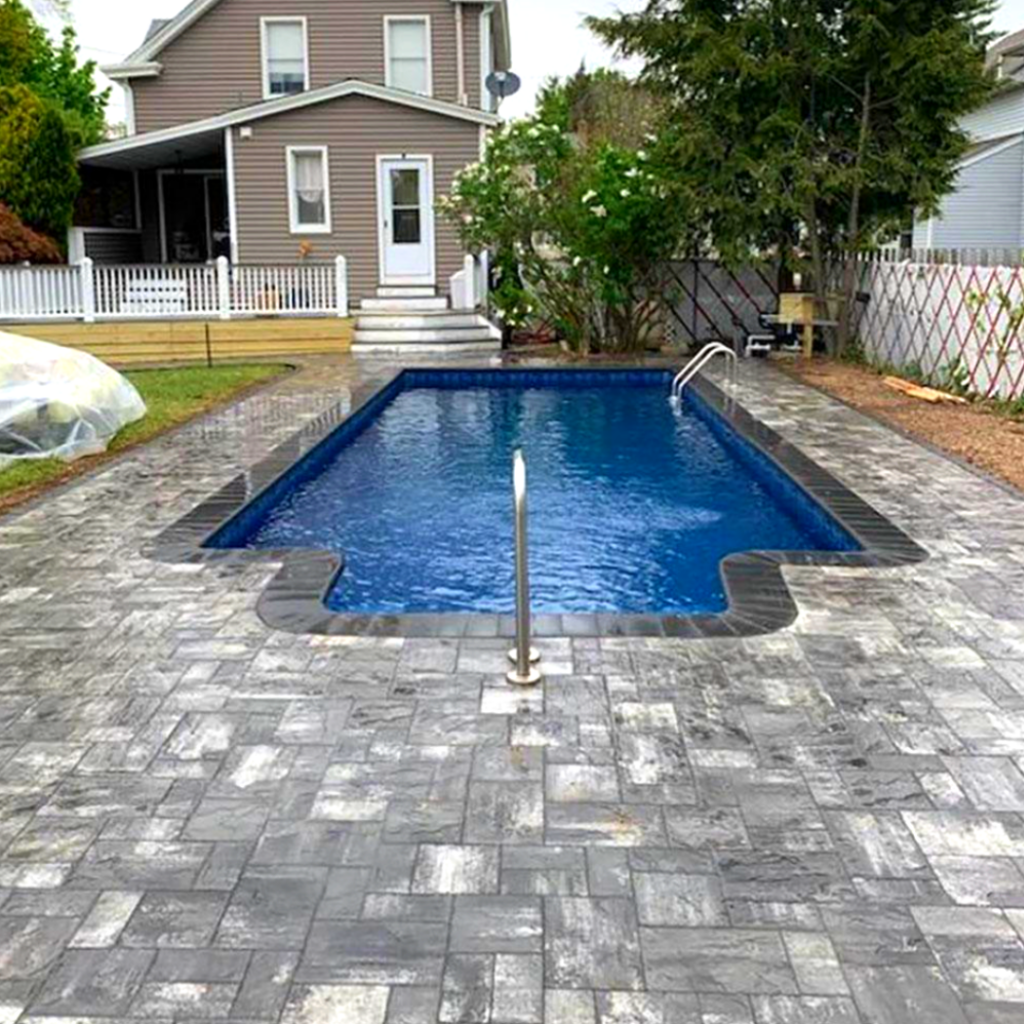 ---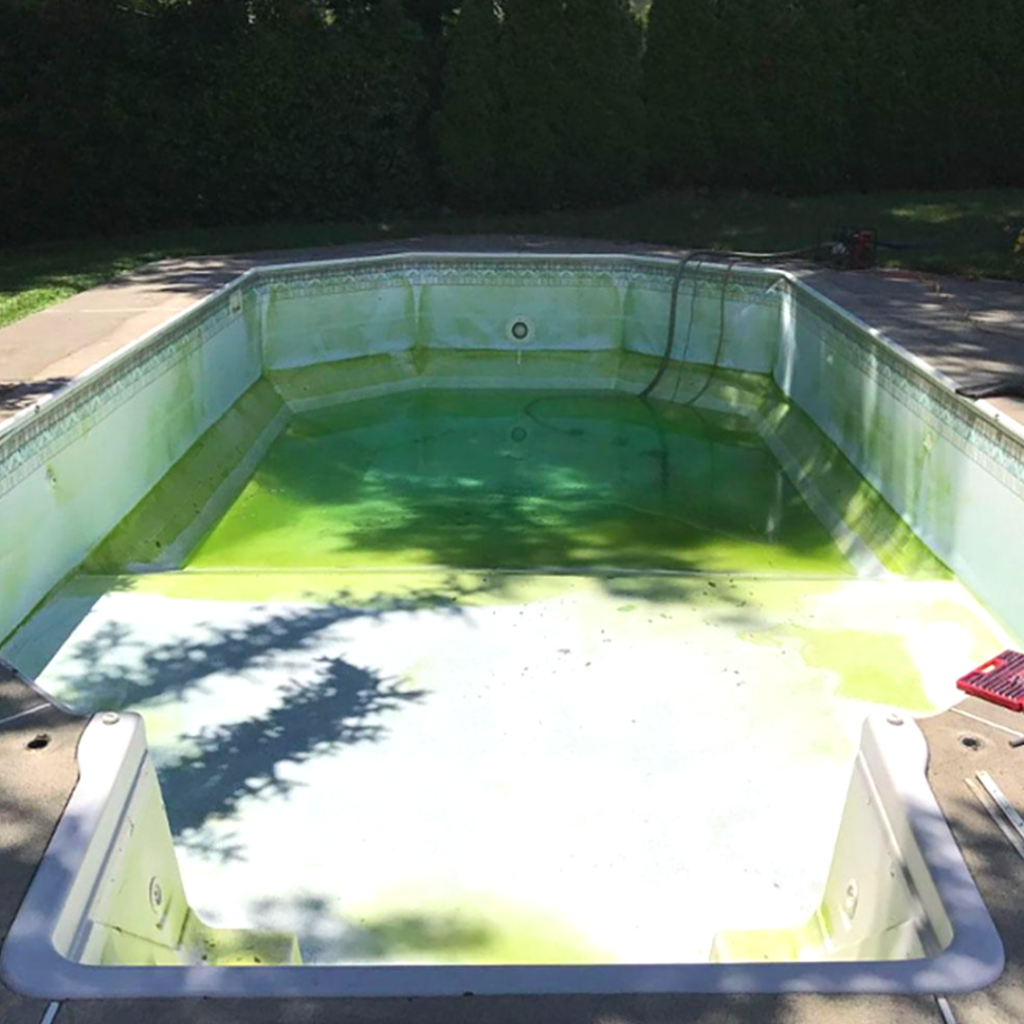 Before: Algae-Stained Liner
Nothing can spoil the appearance of a pool like algae stains clinging to a vinyl liner. If you've purchased or inherited a home with a pool that wasn't well-kept, it can compromise the aesthetics of your pool. Worse yet, algae can make balancing your water's pH more difficult and create an environment that's more hospitable to harmful bacteria.
After: New Liner, Algae Who?
Stripping out an old, algae-stained liner was a relatively simple fix that gave this pool a new lease on life – and a fresh look! A new, brilliant blue vinyl liner helped highlight the gorgeous contours of this pool – complete with a tanning ledge. With algae at bay, this pool is ready to play!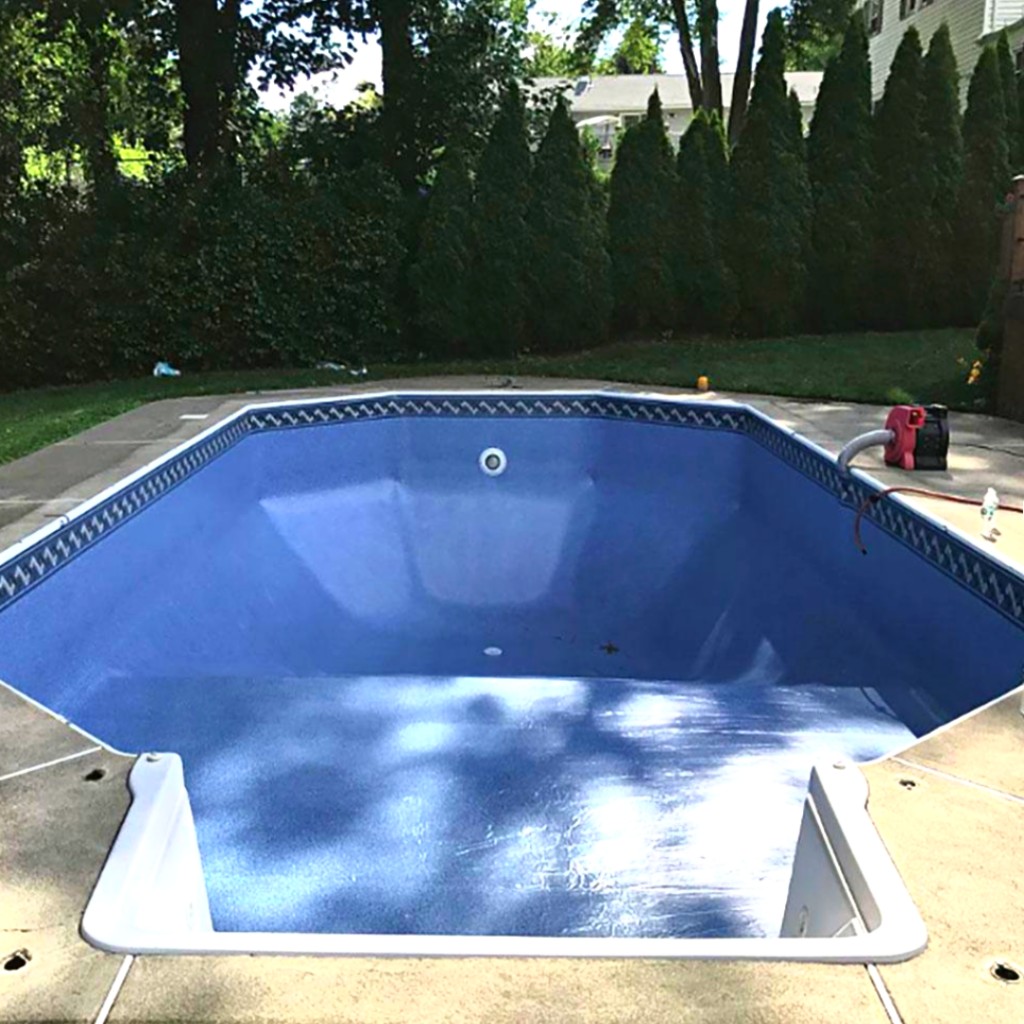 ---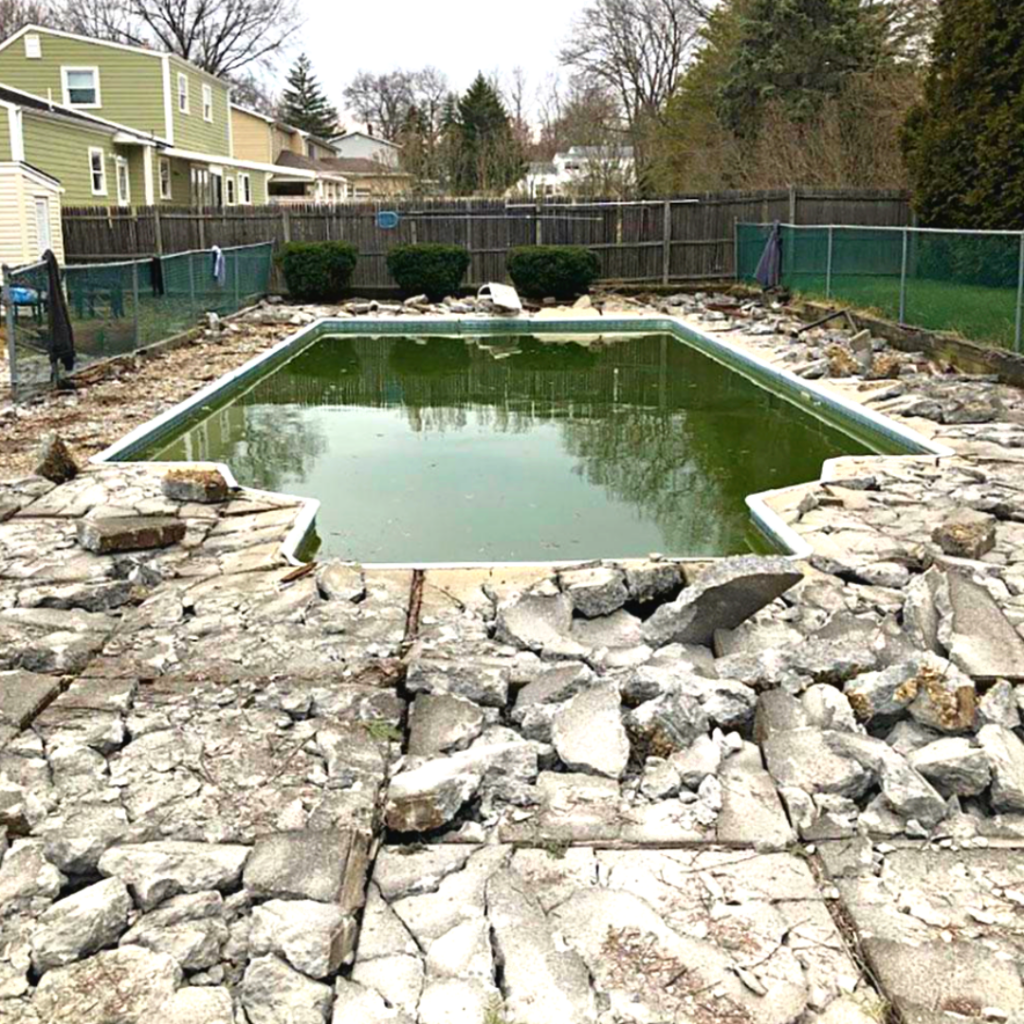 Before: From Tore-Up….
Sometimes, your entire pool area needs an overhaul. Dilapidated decking, algae-filled water, and sad landscaping can dim your backyard's potential. Working with Aqua-Tech can help you realize your pool's potential and give it a much-needed makeover.
After: To Glow-Up!
A little TLC took this pool from "grungy" to "gorgeous." A new crystal-blue liner helped remedy this pool's algae problem, giving it a beautiful shimmer that stands out against neutral pavers-style decking. Adding slate gray coping around the pool helps pull the look together, along with some attractive planters situated poolside. To offset the beauty of this new installation, some subtle changes to this yard's fencing and landscaping helped give this pool a well-deserved glow-up.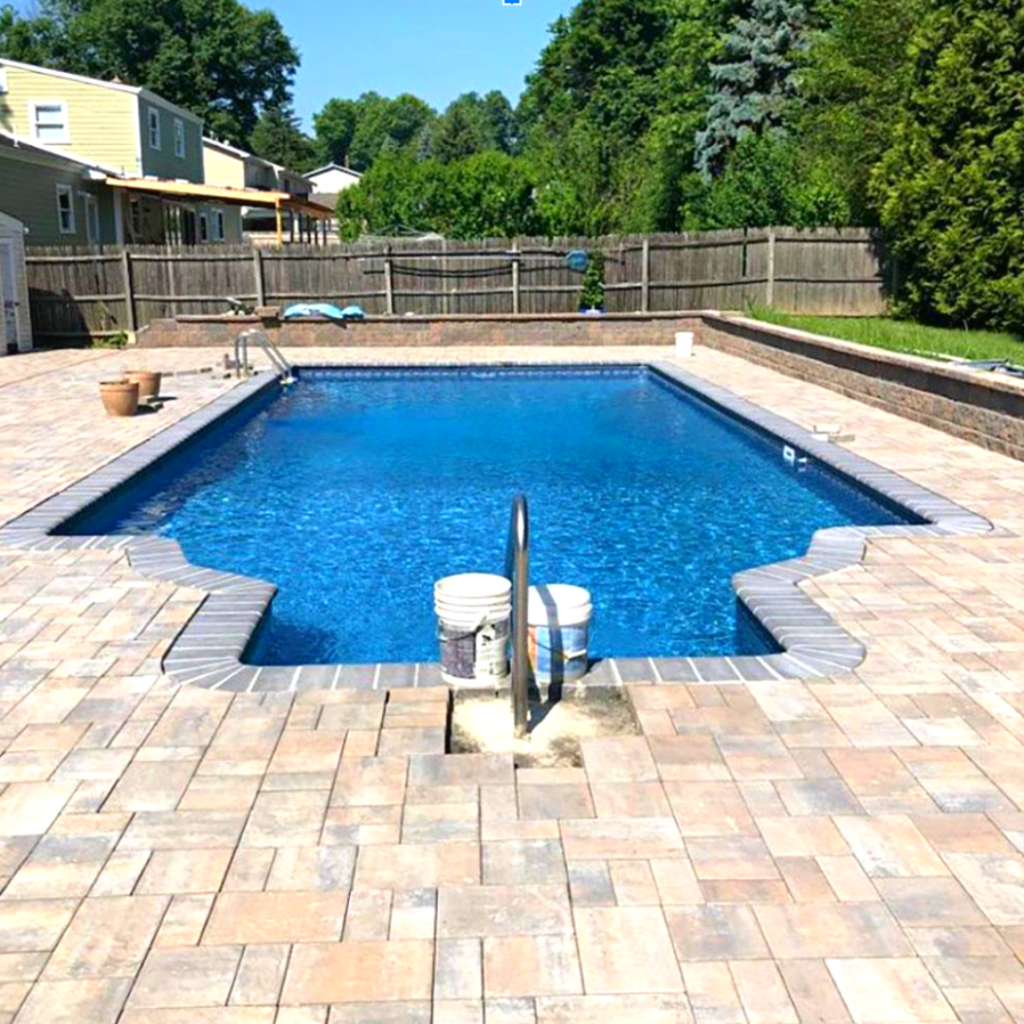 ---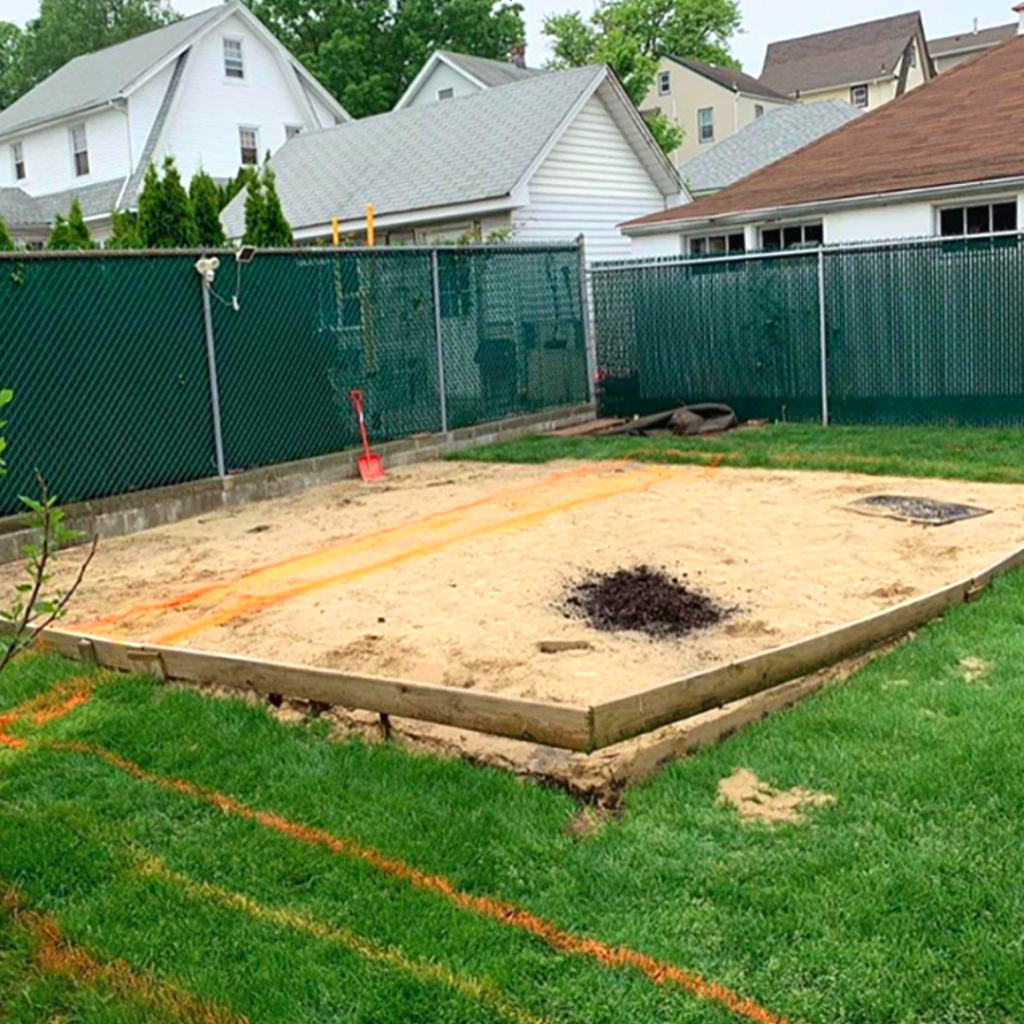 Before: A Small Yard with Big Potential for a Pool
Even if you have a small backyard, it's possible to introduce a new pool to your backyard, making it THE place to be. With a little research and the assistance of Aqua-Tech, it's possible to make your pool dreams a reality.
After: A New Pool Unleashes the Fun Factor
Adding a brand new pool to this backyard has transformed it into a lively place for kids to play. Cool, dazzling blue waters framed by pavers-style decking helps keep things firmly within the "splash zone. Even a small pool offers big fun – not just with plenty of room to splash around, but space for pool-friendly toys to amp up the enjoyment.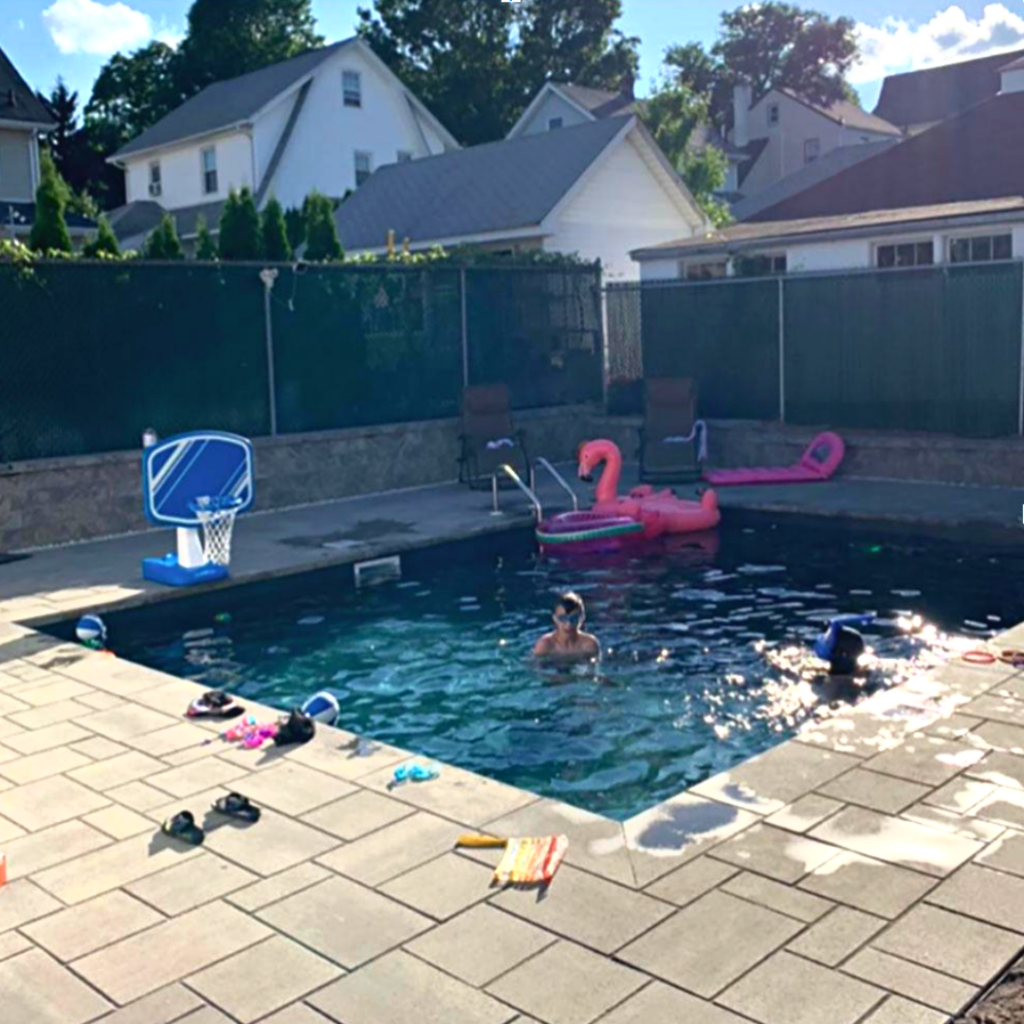 More Upgrades to Consider
These are just a few real-life examples of dramatic transformations that can take a pool from drab to fab. Your pool may not be in a state of disrepair, but even a well-maintained pool can benefit from add-ons that enhance it – and the enjoyment you can get from your pool. Here are a few more ideas: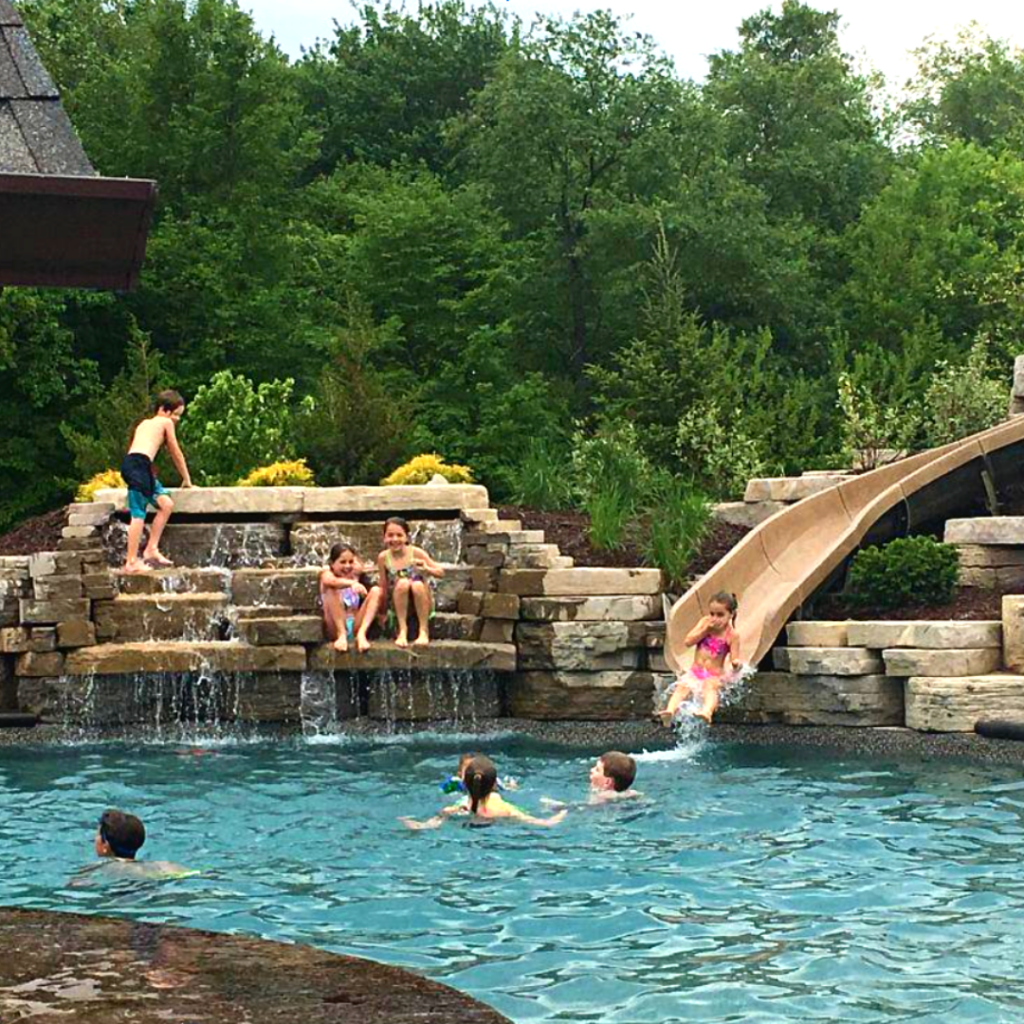 Add a Slide to Your Pool
Skip the long lines and expense of a season pass! Adding a slide to your pool can transform your backyard into a mini waterpark. Working with Aqua-Tech can help you make the most of your space and safely construct a slide that adds even more excitement and fun for the whole family to enjoy.
Changing the size, shape, or depth of your pool is a larger renovation project, but can help reshape your pool into a backyard fixture that suits your lifestyle. Maybe you want to add more shallow areas for young kids to play or drop in a spillover spa. Or, perhaps you'd prefer a different shape that's more of a conversation starter. Working with Aqua-Tech can help you understand what's possible with your space and budget.
Add Pool Lighting or Water Features
Add-ons like pool lighting or a glorious waterfall can help enhance the ambiance of your pool. A pool isn't just a pool. It's a place to relax, play, entertain loved ones and make memories. Colourful lights or thrilling water features can help to create a welcoming atmosphere. Adding pool lighting or water features can be an invasive and involved process – requiring electrical and/or plumbing work. It should only be done by a licensed professional and is often best done in conjunction with other cosmetic fixes, like vinyl liner renovations.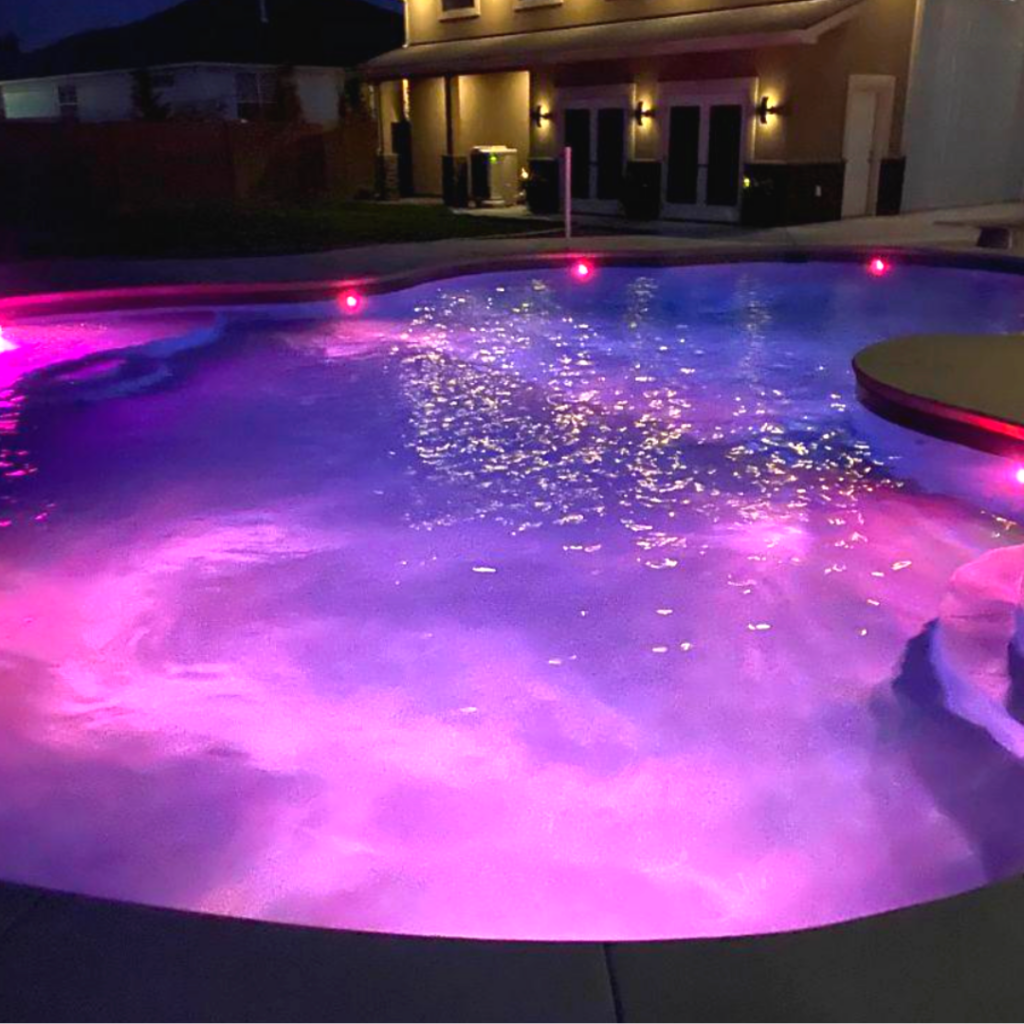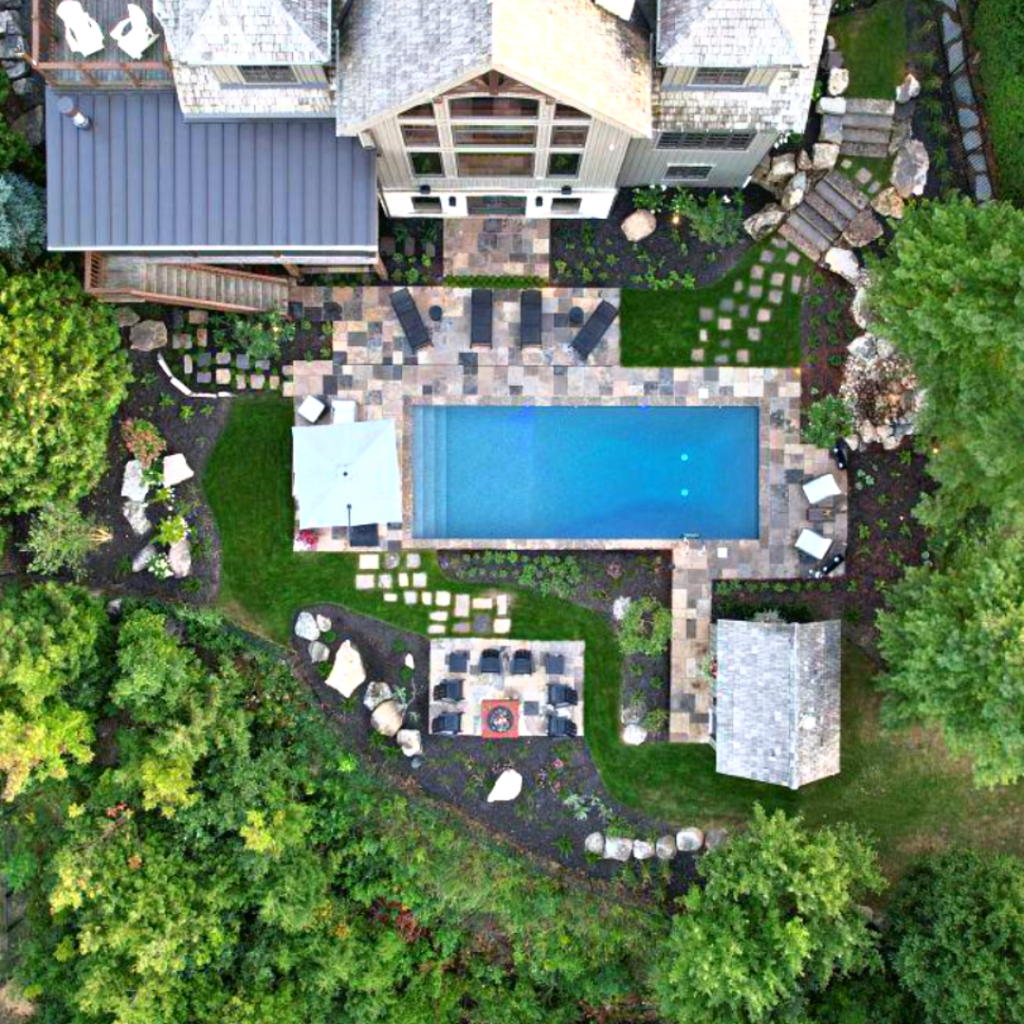 Update Your Landscaping
Sometimes, your pool is gorgeous as-is. However, sprucing up your greenery around your pool area can elevate its style quotient. From simple rock or gravel gardens in winding patterns to colourful planters and flower boxes, a little landscaping can go a long way. Depending on your budget, you can go as grand as you want or invest in shrubs and topiaries to ring your pool and add even more shade and privacy.
Upgrade Your Pool Furniture
Upgrading your pool furniture doesn't mean you have to break the bank. You may already have well-crafted mainstays, like Adirondack chairs or a chaise lounge in a weatherproof outdoor fabric. However, colourful pottery, cushions and throw pillows can help modernize your aesthetic and make it even more inviting when gathered around the pool. A trip to Aqua-Tech can help you find some unique and trendy finds – splurge on furniture that will last for many years.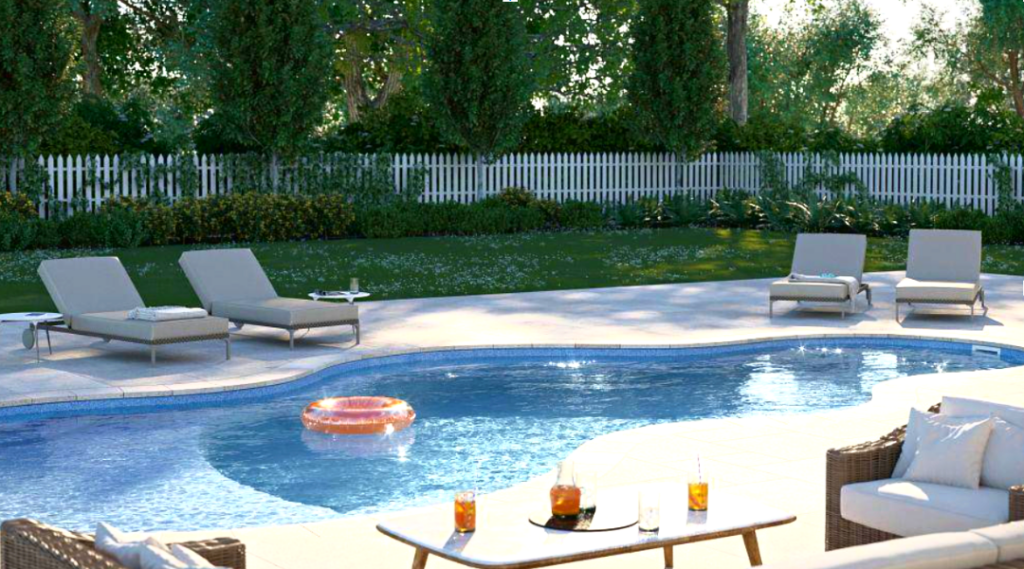 Whether you want to install a brand new pool or swap out an old vinyl liner for a dazzling new one, Aqua-Tech has helped hundreds of happy customers bring their wildest pool fantasies to life. You bring your ideas, we bring the know-how and options to help you start making memories to last a lifetime – right in your own backyard.