Enjoying that special place in your backyard requires some patio furniture and accessories.  The more pleasing an atmosphere you can create will mean you spend more time in that special place.
Here are some great examples and trends to help you:
There is something about a fire that keeps you mesmerized and relaxed.
Plus it adds some warmth on those cooler evenings.
We have both the real and propane fire pit in our backyard.
Convenience plus no smell of smoke on your clothes means the firepit table wins out.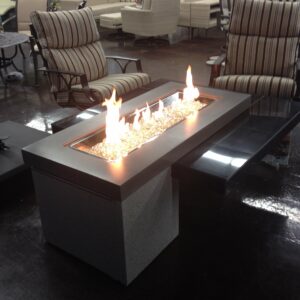 Wicker furniture with marina plus leather cushions.
A German company  invented this new concept so there are no cushions to remove and it's easy to wipe clean.
The material is the same as what is used in expensive yachts so if it can withstand salt water it can withstand what's in your backyard.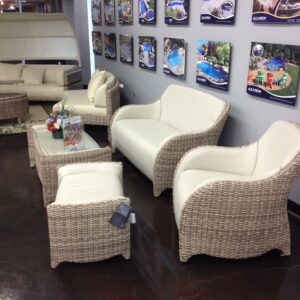 Padded sling aluminum patio furniture with extra cushion effect.
To add comfort to sling furniture you can now get a  padded fabric.
For additional style effect the back fabric can be a different colour for contrast.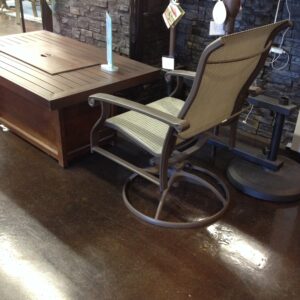 The kitchen is the heart of the home so it follows that an outdoor kitchen will be the meeting place in the backyard.
Not just the BBQ but you can add fridges, beer kegs, bar sinks and all the necessary stainless drawers.
Investment grade furniture.
When you shop for outdoor furniture you will find a huge price range.
Investment grade furniture is the term used for furniture that will last 20 years or more.
You will likely hand it down to your kids.
The inexpensive product will last 3 years or less if it blows away in the wind first.
Talk to the experts and they can show you the differences as they are quite apparent.
This chair from my backyard below is 10 years old but looks brand new.
Contact us for a personal showroom tour to start designing your backyard retreat!
We make better places to come home to!