Outdoor living is made even better with these new products for enjoying your personal paradise. Whether it's reading a book or just relaxing in your backyard it is important to be comfortable. New styles of wicker patio furniture and aluminum have impressive style and comfort!
Marine Vinyl
This contemporary set features marine vinyl fabric with reclining seats. Marine vinyl is a very popular fabric idea borrowed from the yacht industry. No more concern of cushions getting wet…if it can handle salt water in a yacht it can handle your backyard!
Wicker Patio Furniture
Wicker patio furniture with an outdoor bar adds to the multiple uses of your backyard setting. The quality of the furniture components will determine the years of life you get from the product. Between the marine vinyl cushion, solid aluminum frame ( no white metal) and the UV resistant high density wicker this product is meant to last. Many patio products only have a 3 year life and sell for ¼ the cost of this investment grade furniture. We would expect the life of this product to be closer to 20 years. That's 7 times the life at only 4 times the cost and it is something will enjoy for years to come.
Fire Features
Fire features that also serve as tables are in big demand. There is something about fire that feels great to be around. With no smoke smell and easy to start you will likely find yourself around this table most evenings.
Outdoor Rugs
Outdoor rugs add tremendously to your outdoor room. The patio furniture in our showroom just looks twice as good when there is a rug to add colour and compliment the furniture fabric.
Day Beds
Day beds….what a great way for that Sunday afternoon nap. This model rotates so you can be facing the sun or be in the shade. It's also a place for friends to socialize and enjoy those special days.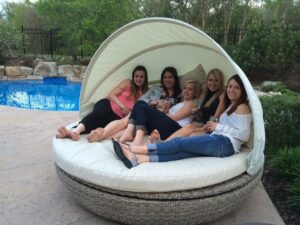 If you would like to discuss your outdoor room design click here to schedule an appointment. Our showroom has many more ideas that may inspire you to plan your backyard get away!