When you visit our showroom, you'll discover it's like nothing else you'll see in Winnipeg. Aqua-Tech's complete display has over a dozen uniquely styled bathrooms so you can get inspired by something completely new, create a wish-list of your dream features, or learn more about the available options.
Your Custom Showroom Tour
We've created our showroom so you can learn more about our team's capabilities and see our high quality custom craftsmanship. When you sign up for a tour, we'll show you the latest innovations from our premium range of suppliers; we'll demonstrate how our custom millwork, cabinetry and glass components will make your bathroom unique; and you'll discover the incredible statement features that you could include from luxurious steam rooms, custom lighting and electronic controls you can use to customize your experience.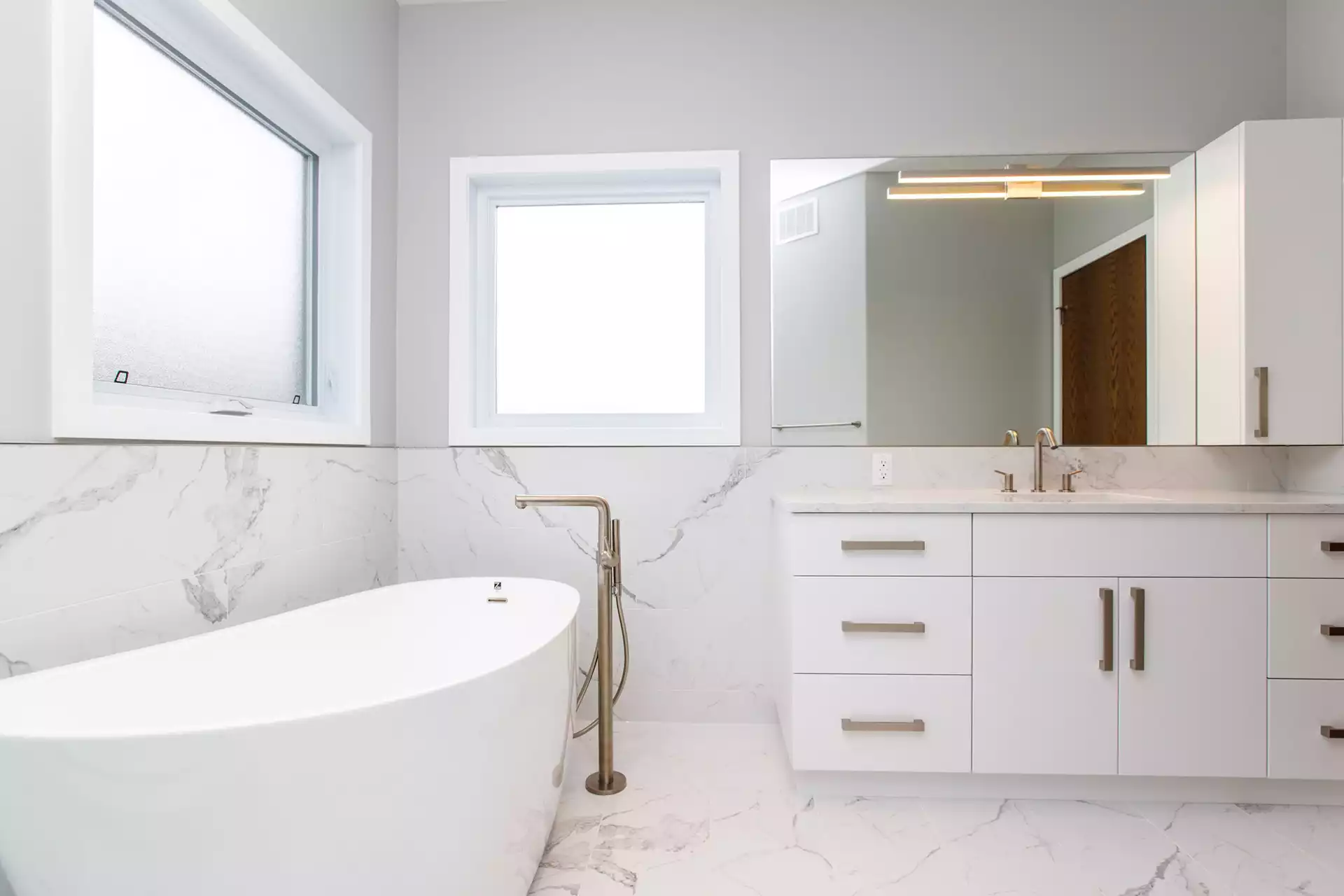 Conveniently located on Dugald Road, you'll be able to explore many of our available products and get more information about our exciting range of suppliers. You'll also be able to meet our skilled interior designers who will work with you to determine your budget, discuss your style preferences, offer advice, and showcase our custom capabilities so your new bathroom is unlike any other–and unlike anything you've seen before.
Are you ready to discover how an Aqua-Tech bathroom could make you fall in love your home again? Schedule your personal tour today. We'd love to show you around.
Request Your FREE Tour of Aqua-Tech's Bath Showroom!
Discover the wealth of options available to you as you renovate your bathroom! From premium suppliers to custom options, you'll get all the inspiration you need!
Trusted By Happy Homeowners
Don't just take our word for it. See why our customers love us!
Very happy with the experience
A huge contributing factor in us deciding to go with you was your conviction that once you start a job you stay until you're finished. We're very pleased!
Your staff is always courteous—this in turn builds customer confidence in your company as well as trust. Kudos to Kathi and Al as well as the water lab!
The service was excellent..
As you know, we discovered at the beginning of the summer that our pool liner needed replacing. The excellent service and price that we received from you was awesome.
Our experience has been fantastic!
It was David's leadership skills, efficiency and communication skills that enabled us to laugh at the weather and wait the arrival of our new pool liner with anticipation, not frustration.
The pool and decking ended up being better than we expected and the project was done in the exact amount of time we were told it would be.
Definitely Do Business Here Again
The people in the crew were friendly and co-operative doing excellent work and cleaning up the jobsite as well. As in my past experience, Aqua-Tech has again done a first rate job. I look forward to referring your company to friends and acquaintances.
This letter is in regards to the excellent service we have received from Aqua-Tech. Whenever we have had problems we have phone and talked to either Rob or Dave and they have been very courteous and helpful.
I think the best part of the spa is that it is a great family conversation place and a chance to enjoy the starry sky. We are extremely satisfied with the quality and the design.