Outdoor wicker furniture has borrowed from the yacht industry.  Instead of cloth cushions there is a new product on the market.  The cushions are covered with synthetic leather which is the same material in the expensive yacht industry.  A German company has developed "Marina Plus" to give outdoor furniture a whole new look.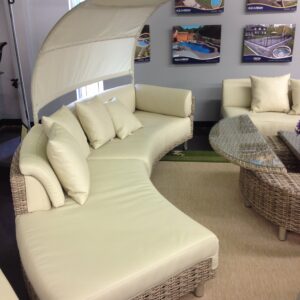 No longer do you have to wait for your cushions to dry or attempt to bring them in before the rain.
This product can withstand the salt water of the open seas so any weather condition in your backyard is acceptable.
Any dew in the morning is simply wiped off.


Outdoor living with marina plus is easy and the wicker is made with HDPE resin for longer life due to it's UV resisitant qualities.
The frame is powder coated aluminum so there is no rusting common with lesser quality products.
Just use soap and water for cleaning the marina plus.
Storage in the winter is easy as well as all Marina Plus product comes with a cover.
Marina plus looks so high end that many customers are using it inside for the winter!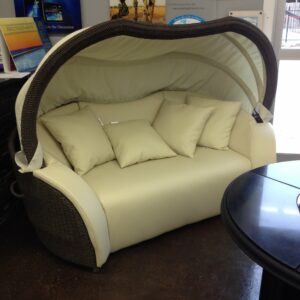 The style and engineering of Marina Plus is cutting edge as can be seen by their product and some of their unique sets.
The unique day bed below rotates so you can stay in the shade or the sun.
Great with friends or an afternoon nap!
Visit our Aqua-tech showroom to see the full line up of Marina Plus product!