Patio & Backyard Lighting
When  designing your backyard we often ask " How do you want the backyard to look at night?" The most common honest answer is "Well, I never thought about it actually" If you put some design time into the question, you can create an environment that will welcome you after the sun goes down. Our 3d backyard design software allows us to show you the finished product at night. Some considerations include safety, shadows, heat light that adds warmth, reflection and the "wow" factor.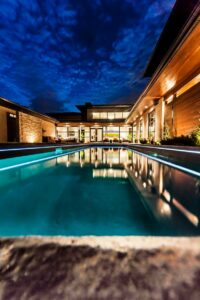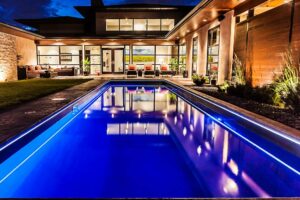 The combination above includes perimeter fiber optic lighting around the pool. It adds drama to the straight line contemporary design. The other two sources of light are the underwater pool light and the sconce lighting on the house. Combined they transform this backyard into a dream nighttime resort!
Another way to heat and light you backyard is with real firepits. They often give enough light around the table and provide mesmerizing flickering fire to enjoy Winnipeg's warm summer evenings.
The lighting of the landscaping, retaining walls and pathways makes a huge difference in the final product. You can see many of the options available in our showroom.
We use Cast Lighting products in many of our backyard projects. The picture below is from their web site and they have a great education download to help you with your design.