Outdoor kitchens are becoming a very popular addition to backyard resorts.  Fun in the backyard includes eating and drinking so it makes sense to have the convenience of an outdoor kitchen.  Outdoor kitchen cabinets have a variety of choices and considerations when you're doing your planning.  I have listed below the considerations we take into account when planning a custom or prefab outdoor kitchen.
Our own family has found that the outdoor kitchen is very much like an island you would find in an indoor kitchen – it is the hub of activity and the central meeting point.  Many a laugh, conversation and glass of your favourite beverage circles around the outdoor kitchen.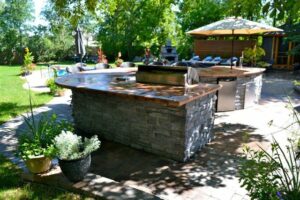 · Size:
How many people do you want to accommodate and how much room do you have in the yard?  Remember the chairs need room to pull back from the kitchen.  You will need enough patio for the chef as well.  Consider having a minimum of 4' for the chef and 5' for the chairs.  Each patron will require room to swing their stool sideways to exit.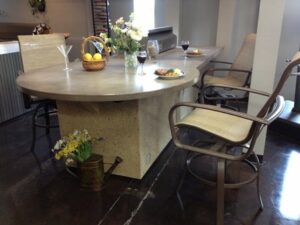 A rule of thumb here is each person eating at the kitchen requires 30″ in width.  If you want room for 6 people you will need 15' in kitchen counter.  We customize many circular tops which can give you the 15 lineal feet in less overall space.  Also consider the height of your outdoor kitchen.   Some are built for standing beside but too high to eat at.  We like a compromise height of 37.5" then a standard bar stool works for eating and drinking.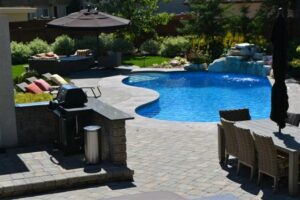 · Materials:
Outdoor kitchen cabinets need to stand up to the elements.  The facing of the cabinet can be stucco, brick, veneer stone or stainless steel.  The drawers and shelves are always done in stainless but between the drawers, fridge etc can be any of the four materials listed.  If your house is stucco or veneer brick you may want to match with the same finish.  There are new options coming on board with realistic wood looking stainless steel cabinets.  Aqua-tech consultants can help design your custom kitchen or show you the prefab display in our showroom.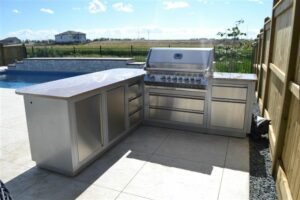 · Accessories:
The BBQ and fridge are the two essential elements but there are many others to consider.  Options include stainless trash door, sinks, side burners, stereos and elaborate bar stations.  Other items we have incorporated include umbrellas, patio heaters, draft beer kegs and EVO cast iron cooking surfaces.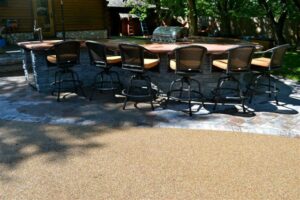 · Outdoor kitchen tops:
The most common outdoor kitchen tops are concrete and granite.  Most cultured or man-made materials do not stand up to the UV rays.  If you're going granite I recommend a light colour so the surface is less hot to the touch.  We have had good success with concrete and can customize the outdoor kitchen to your yard.
Start planning your outdoor fun center by contacting Aqua-tech for some professional ideas and help.