The number one tip going into a Bathroom Renovation – Take your Time to Plan!! Do not gut your bathroom and then go looking for what to install. Believe it or not, this happens all the time. If you are looking for quality products that are not from a retail giant, they typically take about 4 weeks to order in. When you take the time to plan, your Renovation won't look like a hodge-podge of products thrown together because they were available, now.
Bathroom Renovation Tip #1
Stopping in at Aqua-Tech and speaking with a Bathroom Renovation Professional will smooth out the process. Not only does Aqua-Tech provide a full service Renovation, but for handier folks, you can purchase the product only. You can purchase everything needed for your Renovation at Aqua-Tech to make things easier, if you like.
Bathroom Renovation Tip #2
Another tip – carry your samples with you. If you are out-and-about, and you find what you think are the perfect towels….or paint….or accessories, your samples will confirm if the colour works.  Go with your gut! If that little voice inside your head is saying one thing, and your friend is telling you something else, be sure that what you do for your Bathroom Renovation answers your needs, not your friend's needs. This is YOUR Bathroom Renovation, and although having information shared from friends is awesome and informative, be sure you're getting what you truly want.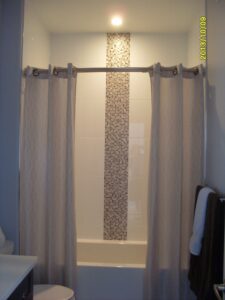 Bathroom Renovation Tip #3
Plan for the future. If you plan on staying in your home for a long period of time – like forever – think about placement of grab bars or changing your tub into a shower (if you're not a "soaker"). The grab bars don't have to be installed right away, but if the blocking is in place, you can install them when you're ready. Or better yet, install products that are grab bars, but cleverly disguised as another useful item, like a shampoo shelf.
Bathroom Renovation Tip #4
Lighting is so important when planning a Bathroom Renovation. Adding a light into the tub or shower area is a wonderful addition to any Bathroom. Pot lights are not ideal as the only light source in the Bathroom, but lovely in conjunction with lights at the vanity. And don't forget to add dimmers to your lights too!
Bathroom Renovation Tip #5
The last tip to think about…"Less is more". Try not to cram too many different ideas into one space. If you decide to work with the Aqua-Tech Decorator when planning your Bathroom Renovation, you will be guided so that, in the end, you get the space you've always dreamed of.