Come Together
A patio is the perfect place for friends and family to gather. When I have company over, one of my favorite things to do is feed them. Trying new recipes is so much fun and your outdoor living space can inspire the recipes you choose.
Here are three of my favorite outdoor entertaining recipes: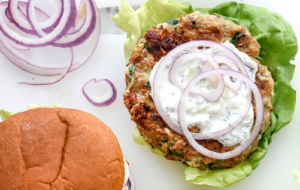 1) Spinach & Feta Turkey Burgers
1 cup fresh spinach, chopped
1 clove garlic, minced
½ yellow onion, grated
1 teaspoon dried oregano
½ teaspoon salt
¼ teaspoon ground black pepper
½ cup feta, crumbled
1 pound ground turkey
Pop on the BBQ for about 4-5 minutes per side and they're ready to serve with your bun of choice and favorite fixings.
2) Mango, Black Bean & Avocado Quinoa Salad
1 cup dry quinoa (cooked according to instructions, but with broth instead of water)
Pinch of salt
3 Tbsp extra-virgin olive oil
3 Tbsp fresh lime juice
2 tsp honey
1/2 tsp ground cumin
¼ tsp ground ginger
¼ tsp cayenne pepper (optional)
1 can black beans , drained and rinsed
1 medium mango , peeled, cored and diced*
1 red bell pepper , cored and chopped
½ cup finely dices red onion
¼ cup chopped cilantro (optional)
1 medium avocado (semi-firm but ripe), cored and diced
Toss together in a salad bowl and serve.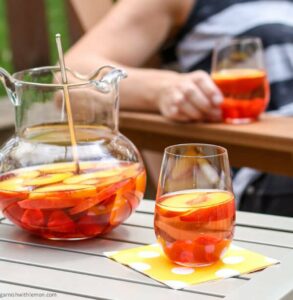 3) Peach-Raspberry Sangria
1 bottle rose wine
2 oz raspberry vodka
2 oz peach schnapps
1 cup frozen peaches
1 cup frozen raspberries
2 cups soda (you can use lemon-lime soda if you like things on the sweeter side)
½ cup peach juice (orange juice works too)
Mix everything together in a pitcher with ice and enjoy!