Before all the family fun and cooling off can happen, your backyard pool requires some installation thoughts. I have devised an installation cheat sheet to prepare you for an in-ground pool in Winnipeg and surrounding area. Of course dealing with an experienced professional is the best advice so all the items on the cheat sheet are covered. "Experienced professional" is an overused term……don't rely just on google searches… check with friends and acquaintances that have had a pool installed. Read more for some behind the scene tips to make your installation easier.
City and municipal bylaws
The bylaws vary depending on your location. Most City lots require 5' from the property line to water's edge but some corner lots are more. Outside the City the rule can be 10' or more. There are also setbacks for the pool equipment.
Underground utilities
The utility companies will come out to mark the lines for no charge. However, the personnel that mark the lines are often not aware of the specific setbacks required. Consult with a pool professional or the utility head office to understand the setbacks required.
Access for machinery and equipment
Typically 7' minimum is required but for added costs anything can be done. Most often the neighbour is involved to gain access to the backyard. Be sure to have a clear understanding before construction begins. In my 39 years of experience only a handful of neighbours ever said no to access……Winnipeggers are neighbourly!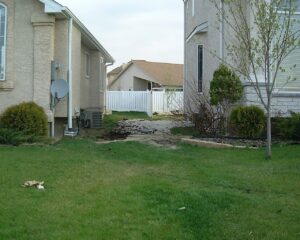 Grade
What level should the pool be placed at? This one often gets overlooked and should be thought through ahead of time. You will want to consider yard drainage, landscaping and adjoining lots among other things. Again, it comes back to the experienced professional. Most people think their yard is level but it never is and once the grade of the pool is set there is no changing it.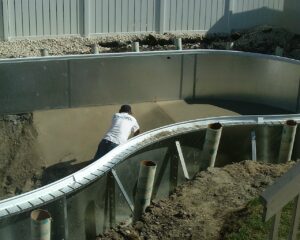 Space
The common mistake here is putting in too much pool and not enough space for landscaping and sitting. Bigger is not always better. Larger pools don't cost much more but you need the whole backyard to work together. Sitting around the pool will be as important as swimming in it so consider space for loungers , fire pits and dining.
Sun and privacy
Which neighbour do you want to block out their view of you in a bathing suit but still get a tan?
Accessories
"Build it and they will come"…. make your backyard an entertainment paradise and you will want to be there. Outdoor kitchens, water features, firepits, hot tubs, patio furniture and day beds are just some of the accessories that should be considered in the original plan.
Landscaping
Absolutely critical to complete your resort! Proper landscape design enhances the beauty of the whole backyard.
Fencing
In most jurisdictions a non scalable 5' high fence is required. Again there are many choices….wood, ornamental iron, aluminum, PVC and chain link. Each has a benefit and specific cost.
Budget
There is much a range here as there is in building a house. A minimum for an in-ground pool is $40,000. However the average backyard investment ranges for $75,000 to $150,000. The sky is the limit as some projects can be close to $500,000. This may seem excessive but when you compare it to a cottage, it's more than reasonable.
This is only a cheat sheet and with this big an investment I highly recommend you let us help you. We have the experience to avoid any shortcomings in the design and installation of Winnipeg swimming pools.
Happy swimming!