Innovative Design Software
At Aqua-Tech, we strive towards innovation. We work with high quality bathroom design and remodeling software to help our clients visualize the sanctuary that their bathroom could be. From 2D floor plans, to 3D renderings, to panoramic viewing, we're here to help turn your dreams into reality.
2D Floor Plans
Accurate measurements on a floor plan help our experienced installation team know exactly where each item will be placed. They also show our clients what the new footprint of their space will look like. Whether you want to know how to maximize use of your space, or accessibility clearances are important to you, our detailed floor plans help take the guess work out.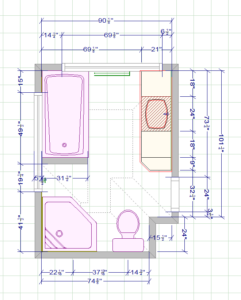 3D Renderings
Our software has the function of generating 3D renderings. Instead of imagining what the end result of your rennovation will look like, we can actually show you. We have the ability to imput different faucets, fixtures, tiles, paint colours,accessories, and much more.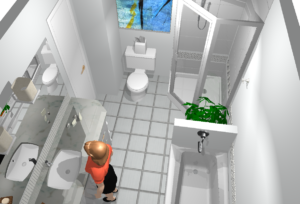 Panoramic Viewing
Our design team has the ability to provide you with an immersive 3D experience that virtually puts you right inside your new space. We simply e-mail you a link and you're ready for viewing your renovation with friends and family.