All the products and steps you need to treat a green swimming pool!
Hot temperatures make algae happy. CLEARLY, that's a problem!
Algae thrive in hotter weather, so now is a great time to star a routine of adding a dose of algaecide to your pool each week. This prevents growth that can happen literally overnight.
Being proactive will save your pool from downtime when you need it most and the time and expense to clean it up if it does appear. Our fast acting solutions are ready to keep things clear.
Here is a link to a step by step video on how to treat algae in your pool with BioGuard BurnOut and Erase: How to Treat Algae in a Pool – Aqua-Tech
Using the following products will reduce the risk of algae in your pool!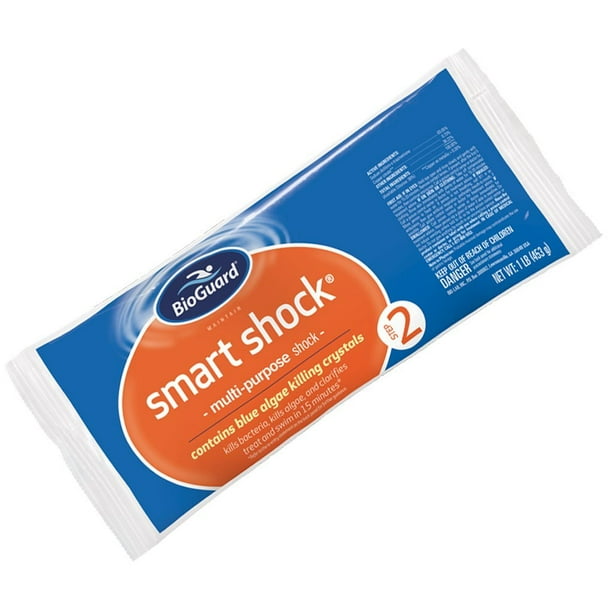 BioGuard Smart Shock: Smart Shock is step two of the BioGuard weekly maintenance routine, (Chlorine is step one) and adding the required dose for your size pool (1 bag / 40,000 litres) each week will help remove organics and bather wastes from your pool.
BioGuard Erase: Erase is the ultimate algae destruction tool used to combat a green pool. Erase harnesses the wonderful properties of copper sulfate to kill the algae to make your pool the sparkling blue that you are used to!
BioGuard Banish: Banish is one of the most important products that is imperative to proper BioGuard pool care! Using the wonderful algae killing power of copper sulfate, Banish is a great way to keep your pool algae free. In addition, it is step three of BioGuard's weekly care system and helps to keep your pool clean and green free!
BioGuard Polysheen Blue:
Polysheen Blue is one of BioGuard's most popular products for keeping your water looking crystalline. It uses special polymer technology that allows it to both gather unfilterable microparticles and remove them from your water. Polysheen Blue also helps maximize the life of your filter and is a product that is fantastic for problem solving and maintenance!
BioGuard 5 Way Test Strips: The BioGuard Dip and Read 5-way Test Strips are a quick and easy way to test for Total Bromine, Free Chlorine, pH, Total Hardness and Total Alkalinity
Pro Tip: Always chemically clean your filters using Filter Brite during and after fighting an algae problem!
Below is a link to a video on how to clean your System III Cartridge Filter!
https://aqua-tech.ca/support-posts/how-to-clean-your-system-3-cartridge-filter/