A gentleman in the showroom who has been a pool owner for at least 10 years made a confession to me this past week. " The hidden features of pools with waterfalls, is a secret that many pool owners are missing out on." I didn't at first understand what he meant but when I dug a bit deeper he indicated that he had not been in his swimming pool in 5 years but that he uses his pool 5 times a week minimum. I eventually clued in that the individual loves the heck out of sitting by his pool watching and listening to his water feature and relaxing a different way than most people think of pools. Following is a few points that 'John' helped me see a little bit more vividly.
Pools with waterfalls
The first point John made to me was that weather didn't significantly impact how he used his pool. Follow the points he made:
* If it is sunning and warm I sit close and let the water spray me while I read my book
* If it is raining, my water feature takes on a different look, water is cascading down different areas of it and I can't stop admiring it
* Pools with waterfalls bring the element of sound into the landscape, the point seems too simple if you can have something beautiful visually on it's own and then add the sense of sound the feature takes a a profound different sense of pleasure.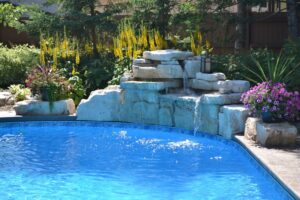 A room with a view
John also shared with me that pools with waterfalls can often be enjoyed while in the house or far away from the pool area. The veteran pool owner described how he and his wife enjoy a glass of wine from their sunroom which is almost 50 feet from the pool area. The waterfall is set to a very robust rate in which the couple can see and hear the water splashing and banging on the rocks while the sip on their Merlot. As we got into the conversation more I learned that John leaves the water feature on anytime that he is either in the back yard, kitchen or sun room via the automation set up on his Iphone.
Small regrets
The only thing John shared about regrets was that he was recently at a friends and saw that they had some deck jets and laminar streams installed and indicated that if he would have considered having additional pool water features if he realized how much he would enjoy them. Great personal insight that will help us better explain pool water features to perspective clients. Enjoy some further images of pool water features here and feel free to contact us to get your design going.