Every bathroom we design and build is unique…that's what makes it fun to design!
In this Winnipeg bathroom renovation the customer had a large 5'x5' whirlpool tub.  The tub was rarely being used and they really wanted a large shower.
This base is custom made by Aqua-tech's on staff craftsmen.  From the design to the intricate very substantial glass installation is all done in house.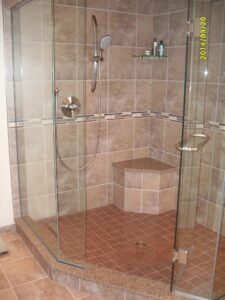 On this next renovation the customer had a standard 3 sided shower where you see the new shower.  The half wall of glass opens the room up and totally modernizes the appearance.  Measuring and installing the exact pieces of glass is not for the do it yourselfer.
This Tuxedo bathroom renovation design involved removing an underutilized large tub.  The towel warmer was incorporated into the design for warm towels and a warmer cozy room.  Larger floor tiles were chosen as the room is more spacious than your average bathroom.
When you first look at this design it seems like an optical illusion.  The new shower seems deeper than the cabinet.  In fact it is not an illusion as the shower is deeper as it is 5' deep.  On the other side of the bathroom wall was a kitchen closet that was not being used.  A deeper larger shower was more important than the kitchen cabinet…..voila!
Another illusion?….no door on the shower?….No, just another unique bathroom design by Lee Green and installed by Bill Frost and our craftsmen.  Notice the long drain that allows for no threshold on the shower.  The length of the shower is also a requirement if you want a similar design.  Faucets are also a factor when designing such a shower.  The rain shower style head allows the water to come straight down instead of spray out of the shower.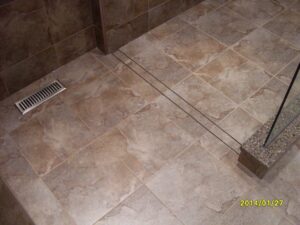 Inspired yet?…..Let us help along the way by starting in our showroom….book your initial consult today!