It's well documented that the bathroom in a house is one of the most used rooms in any house. With that much use a bathroom will need renovation every 15-20 years on average. The illustrations below are just a small sample of what some Winnipeggers have done to redo their bathrooms and have Aqua-tech make them beautiful again!
This Tuxedo bathroom is in the basement but is a very classy bathroom remodel. Showers are so important compared to the bathtubs of old. Notice the large tile and contemporary colours as well as the rain shower head. Double sinks are still common for those that have to get to work at the same time or two daughters and share the same bath.
Utilization of space in this Fort Richmond bath reno was designed by our in house designers. The old tub was out and a great shower in its place. Our in house trades people completed the work in  just three weeks.
If you have the room, a double shower is the ultimate. All the tile you see here is heated including the tile and bench in the shower. The towel bar is heated as well!
Our installers and designers were especially proud of this Whyteridge ensuite makeover. The homeowner added some great ideas as well. It's fun working with nice people!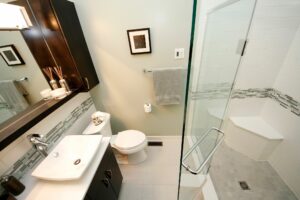 White never goes out of style…….add some accents and voila!….. another Lindenwoods beautiful bathroom!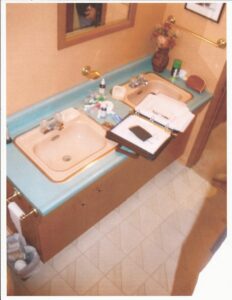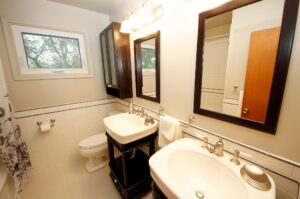 Does your bathroom look like the before picture? This couple in the Kingston Row area were very happy with the huge change!
River Heights homes can be challenging due to their age but this bathroom remodel turned out amazing!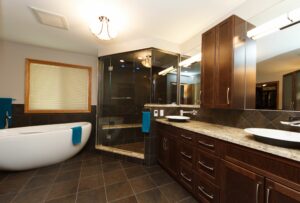 Another Lindenwoods ensuite……ok, we do a lot of work in that area but we have actually done bathrooms in every corner of the City.
Yes, another Lindenwoods ensuite…..there was a giant two person whirlpool tub where this shower is now. The tub was full of plants and not even used…. A large shower made so much sense!
Tuxedo gem on West Taylor…..nice bright colours to start your day!
Start your planning of a bathroom remodel today by visiting our showroom and discussing your needs with one of our experts!
We make better places to come home to!