Our lives are enriched by the spaces we inhabit, and nowhere is this more evident than in our backyards.
These open areas offer a personal retreat, a place to connect with nature, enjoy the company of friends and family, or simply relax.
A backyard space that inspires relaxation and enjoyment is not just a home improvement project; it's a lifestyle upgrade.
If you're looking for ways to amp up your backyard leisure, you've come to the right place.
In this comprehensive guide, we're going to explore seven amazing ways you can enhance your backyard and transform it into your own personal paradise.
Read on to discover all the ways you can create the backyard of your dreams!
Important Steps to Follow Before Updating Your Space
When it comes to updating your backyard, there are some crucial steps you'll want to take to ensure it comes together with ease.
Be Clear on What You Want
Before making any physical changes to your backyard, imagine how you want it to look.
Your vision will guide your decisions, whether you want a serene oasis, a social hub, or a combination of both.
This also extends to the overall aesthetic of your backyard as well. The design elements you choose to incorporate will have a significant effect on how you feel while you're enjoying your space.
Create a Backyard Plan
Translating your vision into a concrete plan is a critical step.
This involves sketching out your backyard, deciding on features like pools, hot tubs, or landscaping, and figuring out their placement.
Evaluating Your Space
An honest evaluation of your backyard's size, shape, terrain, and sun exposure is crucial.
Take the time to accurately measure your yard while also noting any existing features and layout.
A detailed understanding of your space will be invaluable when choosing the backyard leisure elements you'd like to incorporate, such as hot tubs or vibrant gardens.
This can help ensure you create a space that is free from clutter and overcrowding, maximizing its overall appeal once it's complete.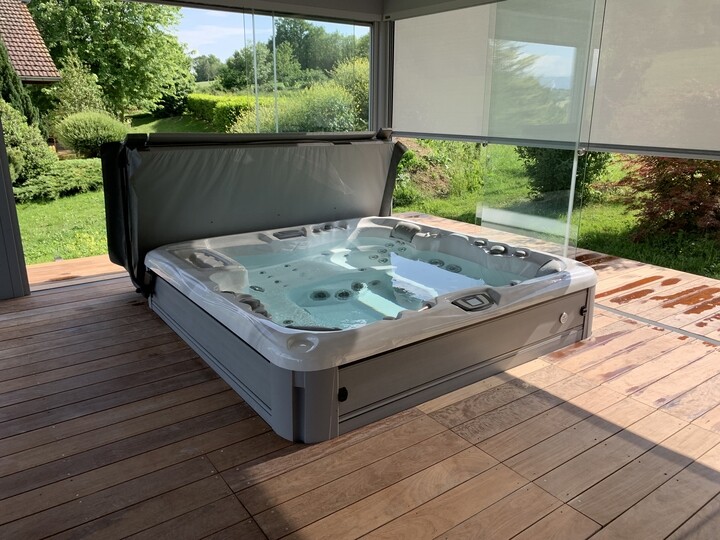 7 Backyard Leisure Tips to Enhance Your Outdoor Space
The elements you add to your backyard play a significant role in how you can use your space.
While some people prefer a more muted design with wide-open spaces, others may envision a more intimate setting that includes a combination of entertainment elements.
Below, you'll discover seven amazing ways you can enhance your space this season!
1. Add Blissful Relaxation With a Hot Tub or Swim Spa
Imagine sinking into warm water, feeling the tension melt away, and letting the calming waters soothe your mind.
This could be your everyday reality with a hot tub or swim spa.
Better yet, with a swim spa, you can amplify the functionality of your backyard, transforming it into the ultimate home gym while also enjoying the luxury of hydrotherapy anytime you choose.
Furthermore, with its heated water, you can throw epic pool parties 365 days a year – your backyard enjoyment will no longer be bound by the weather!
2. Amp up Summer Fun With a Pool
From summer parties to morning laps, having a pool provides countless opportunities for fun, fitness, and relaxation.
It's an asset that can provide enjoyment year after year.
We understand that every backyard is different, and it's not always easy to find a pool that complements your space.
This is where a custom pool comes in. Not only can you design it to perfectly fit your space, but also effortlessly bring your vision to life.
3. Create The Ultimate Social Zone With Patio Furniture
From cozy lounge chairs to large outdoor dining sets, the right seating can make your backyard feel like a true extension of your home.
When making your selection, you'll want to factor in comfort, durability, style, and maintenance needs.
Patio furniture can come in various styles and designs, each with a unique purpose. When choosing the type of patio furniture, think about the purpose it will serve.
Will it be used for dining, lounging, or both?
Another aspect you'll want to consider is its material and colour to ensure they complement the overall aesthetic of your backyard.
4. Embrace Year Round Enjoyment With a Fire Feature
A fire feature adds a cozy and inviting element to your backyard. It's perfect for chilly nights and extends the use of your outdoor space into the colder months.
This can come in the form of an elegant fire table, stone firepit, or a large outdoor fireplace, each one offering a different size and aesthetic.
Not only does this ensure they can fit into nearly any backyard space, but also that they are able to complement a variety of personal styles.
5. Create an Outdoor Paradise with Fresh Landscaping
Choosing the right plants can add colour, texture, and life to your backyard.
When choosing your plants, it's important to consider the local climate, soil type, sunlight exposure, and the maintenance level you can manage.
Not only do plants create a vibrant atmosphere, but they can also contribute to your overall well-being.
From combating stress to enhancing your tranquility and improving air quality, plants can be a powerful addition to your backyard in various ways.
To bring these benefits even further, consider adding plants that provide a natural dose of aromatherapy to your space, such as lavender, rosemary or jasmine.
6. Add Some Ambiance With Elegant Lighting
Good lighting is not just aesthetic; it's a safety feature.
Outdoor lighting comes in various styles, offering an abundance of ways to enhance your space while maintaining your aesthetic.
Ideally, any lights you add to your backyard should provide a soft, warm glow. Not only does this create a cozy ambiance, but it also ensures you won't have to combat the harsh light from bright bulbs once the sun sets.
Some of the most popular outdoor lighting options include:
Solar stake lights to maintain visibility on pathways
Fairy lights draped over trees or backyard structures
Spotlights to highlight features in your yard
Choose a mix that fits your needs and aesthetic preferences.
7. Add Some Privacy Features For Extra Comfort
While open backyards have their charm, privacy is often desired.
Backyard privacy is non-negotiable and is a main factor many work to achieve in their outdoor space.
Whether it's to block prying eyes, reduce noise, or create a secluded spot, adding some privacy features can help.
Sure, if you're in the country and have little to no neighbours, privacy may not be a big concern, but for those with close neighbours or multi-story homes next door, privacy becomes a necessity.
Some of the best ways to enhance the privacy of your backyard can include:
Pergolas
Tall trees and shrubbery
Umbrellas
Gazebos
Fences
Awnings
Retractable screens
How you choose to amp up the privacy in your backyard will depend on your overall aesthetic, budget, and the current structures in your space.
Umbrellas may be good for someone who only needs to create privacy from above, but if you live in the city and need a more extensive barrier, fences and a well-placed gazebo may be the better option.
Need Backyard Inspiration?
Updating your backyard is a significant step in creating a home where you and your loved ones can thrive.
It's not simply about creating a beautiful space. While that's certainly part of it, it's also about how you feel when you're spending time in your space.
You want to create a warm, welcoming space where your stress melts away simply by stepping out of your backdoor.
If you're still unsure of how you can bring your backyard to the next level, explore our installation gallery for inspiration.
You'll find various installs we've done, with some cultivating a romantic, intimate escape while others boast wide-open space and ample greenery.
Backyard Leisure Experts in Winnipeg
Your backyard is an extension of your home and deserves as much thought and care as any interior space.
By personalizing it to your needs and tastes, you can create a sanctuary that offers relaxation, enjoyment, and a touch of luxury.
Designing your dream backyard doesn't have to be a solo journey. With the backyard leisure experts at Aqua-Tech, achieving your dream backyard can be a stress-free experience.
Our team has been serving the residents throughout Winnipeg for over 30 years, enhancing their backyards with various custom pools, hot tubs, swim spas, and high-quality patio furniture.
If you're ready to tackle your backyard update, contact our team today or visit our showroom. We'd love to help make your dreams a reality!