We are midway through our pool construction season and every week I see details that would be good to share. Of course, there are a thousand details to building an in-ground swimming pool but here are 5 that I noticed this week.
Matching an existing patio
Many times the homeowner already has invested in a patio and they would like us to make the adjoining pool patio marry up to it. There are a couple key issues.
One is the colour match to the new pool patio. The existing pavers will have faded and maybe not even available. Consider a complimentary colour or border to separate the two patios.
Secondly the grade will likely need to be altered to meet the new pool patio. This usually involves pulling some of the old patio up and resetting the pavers at the new height.
Gas pool heater regulations
Gas pool heaters give off carbon monoxide so must be 10' to any building opening to an inhabited space. That includes your furnace vents, dryer vents, fireplace vents, windows and doors. In the picture above that ruled out one side of the house. Our experts can help with this decision and you may need to consider an electric heat pump to heat your pool. There are additional rules for all the pool equipment…it must be 2' to your property line and >10' to a neighbor's window.
Plaster and tile can be used in Winnipeg
We are currently finishing a tile and plaster pool. You don't have to have vinyl in Winnipeg but it is much more economical.
Palm trees and infinity edges are available in Manitoba!
Ok, the trees are not real but the tile infinity edge is for this personal resort!
Custom shapes are easy and don't cost more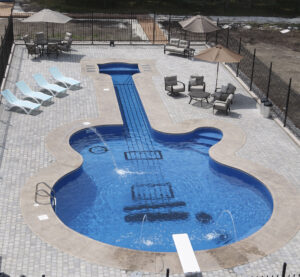 In the pool above the L shape was custom made to suit the existing deck. The custom shape is common and not an extra cost today. Even the guitar shape pool was not more than the same size rectangle pool.
Visit our web site gallery or come down to see our display pool at 1065 Dugald Rd.
Start planning your personal retreat today!