What's driving this trend?
Vinyl fashion building as a trend blasted off recently. It took consumers and pool builders alike to figure out what was important to families. What was certain was that it wasn't about getting in and out of the pool. 'Vinyl over' is an exclusive method inside of custom pool building. VO opens pools up to unique customizations for personalization, fashion, form and function. The structure design that you can build with this technique is not available in many types of pools. The bespoke design is so broad it is becoming one of the hottest trends in Swimming Pools in North America.
Scope and Limitations
The whole drive started when Plastic and Fiberglass steps became boring to homeowners. Dull color and lack of customization caused consumers to ask for more. To begin, entry steps to pools could now  be designed with the same fashion vinyl as the rest of their pool. Homeowners loved it. Next, steps became a grand staircase and then to wonderful formed entry ways along the edges. Today 'Vinyl Over' designs work with but are not limited to:
Vinyl attached Hot Tubs
Tanning Ledges
Bars & Bar Stools
Swim Out Ledges
Kids Play Islands
Imaginations creation
Benefits
There are no dimensional constraints, the Vinyl accessories can go anywhere. Again, this gives the designer flexibility over a product such as Fiberglass. All sizing is in play. If a homeowner wants something that is 16′ 2.87″ as that is the space they want to fill, it can. Colors of all the vinyl accessories have the widest selection of fashion coverings. One of the great delights to homeowners is how affordable these unique premiums are.
Now or later?
Of course when designing new, most pools can if budget is not part of the equation have almost anything. With an existing pool that is not always the case. Any of the Vinyl accessories can be installed into an existing pool. This is a significant advantage as most people do NOT want to bound into a design forever. The reality is people get tired of things. It may be their kitchen or bathroom but styles and likes change. With thanks to technology our pools no longer have a life sentence.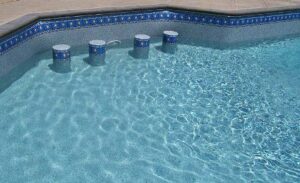 How can Steps, entryways & Vinyl accessories be unique?
Start with a dream. Let the designer turn ordinary materials into creative timeless form. What people fail to get is that there is nothing that you can't create with this technology. This is especially true when it comes to sizing. If you want something that is 24 feet long 8 feet deep with 13 different radius curves, make it so. Three colors? No problem. These are the words that a homeowner loves to hear.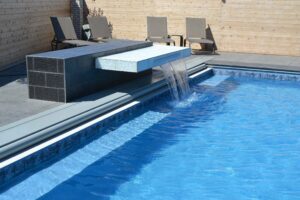 Tread-tex
Tread-tex is to pools that upholstery is to fine furniture or fabric is to a quality tailored suit. TT is an innovation of material that provides a different feel for feet, hands, body and bathing suits. Tread-tex is often tailored for the designs in today's pools. Premium sitting and standing locations of custom accessories in the pool sport Tread-tex .
Have fun designing your families dream!