I don't think anyone truly enjoys draining and refilling their hot tub. Though, it is something that just needs to be done. If you don't drain and refill your hot tub every so often, the water begins to get pretty dicey to go into. It can be quite a messy and stressful job, but with the hot tub supplies, it'll be a piece of cake! Here are 4 easy to follow hot tub drain and refill tips.
Swirl Away
Here at Aqua-Tech, we have an amazing (and I mean AMAZING!) product called Swirl Away. Before you drain your tub, put the entire bottle of Swirl Away in with the jets on and let it circulate for about 10-15 minutes. In those 10-15 minutes, your jets are going to get the best cleaning! Essentially, this product is going to go inside all of your jets and give them a better cleaning than we could. Then when it's time to fill your tub up again, it'll be like a brand new tub! Click here to purchase some Swirl Away today!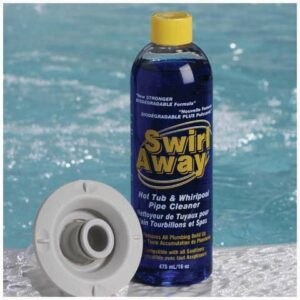 Filters
Or should I say… Pre-filters. As soon as you take the hose and start refilling your tub, all the algae, rust and other deposits that come from your hose water goes into your hot tub. Pre-filters catch all of that nasty junk in its sponge like filter before it reaches the hot tub. This is a great little investment to help prevent anything undesirable in your spa.
Weekly Chemicals
It is important to do your first dose of weekly maintenance on your spa before you bring your first water sample into our experts in our water lab for testing. If you balance your spa before you bring a sample into us, it gives you a chance to enjoy the spa before rushing over here with the water sample.
Using the Right Hot Tub Supplies
Last but not least, we can't forget how important it is to use the right tools. When draining your spa, things can get a little messy depending what you're using to drain. If you use a sump pump, the chances of getting water all over you and the surroundings of your hot tub greatly decrease… the sump pump will save your life… and clothes!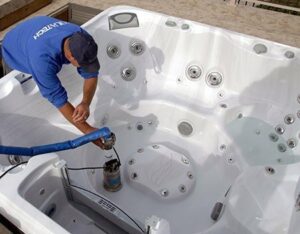 If hesitant about performing a drain and refill yourself, contact our Service Team or book your service online here. Our experienced technicians will come with the right hot tub supplies and walk you through any questions you may have about performing the hot tub drain and refill. Happy soaking!