If you are looking to purchase a new hot tub and want to incorporate it into your backyard space so it looks great and functions effectively you should partner with an expert. There are many ways to set your hot tub into your yard space but one of the ideal ways is to have a custom built hot tub deck surround your spa.
Reason # 1 to have a customized hot tub deck – design
By having a Aqua-Tech built custom hot tub deck you can enjoy all the benefits of a clean access surface and also follow the design of your yard so it is very pleasing to the eye.   You will love a custom built deck by Aqua-Tech with full functionality and the clean properties of a wood or composite deck boards.
Reason # 2 to have a custom hot tub deck – functional accessibility
Another major reason you'll love your hot tub on a custom built Aqua-Tech deck is you will be included in the design so that your wish list is included. The deck can be built so that functionality is first and foremost while ease of getting in/out of the spa is simple and safe. You'll love the clean properties of a wood or composite deck by not dragging grass or small stones into your spa off you feet.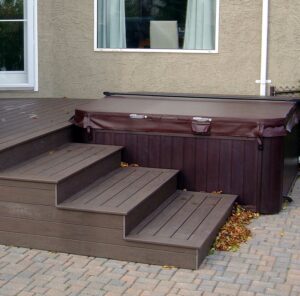 Reason # 3 to have a hot tub deck – structure
Another important item to consider is: do you want the spa dropped down into your deck flush with the deck boards or above the deck boards? Of course lowering your spa down into the deck still requires a proper pad for the spa to rest on. We do not want the spa's full weight to rest on the deck, as this will gradually pull the deck down due to the tremendous weight. The spa needs to rest on a proper pad just like if it was free standing in your yard. Lowering down into a deck also eliminates the need for spa steps or a spa bar for your phone, wallet and drinks.  If you choose to have the spa sit on top of the deck, you will need to ensure the deck is built to take the tremendous weight. Using larger ground screws and 2 x 10 joist with 12" centers is a must and needs to be incorporated into the plans for the future deck.  When lowering the spa into the deck or to have 1 or 2 sides of a spa against a deck requires access panels for future maintenance. All 4 sides of a hot tub need to have access for maintenance so building in access panels will save money and time when needed. This is something most deck builders do not discuss or recommend to clients. This is why you should trust Aqua-Tech to build your custom hot tub deck because they understand all the requirements of a deck built for a hot tub.
How to get a hot tub deck installation started.
It all starts with a site visit from one of our sales experts so that measurements can be taken and options can be discussed on site. During the site visit, the sales expert will discuss code requirements that must be met and the clients wish list to ensure all code regulations and the client's needs are met & included in the custom deck.