Swim more work less
1. Have Aqua-Tech open your swimming pool.  Sure you may have the confidence to pull your winterizing plugs, install your baskets & jet eyeballs etc.
-But what if one thing goes wrong?  It doesn't have to be a huge mistake in the pool opening process that you make that can set you back a weekend or a week.  You could spend valuable swimming time looking for a hard to find part or waiting until you can take another couple of hours away from the family obligations or the workplace to finish your pool opening.
-Our Technicians arrive at your home prepared with all the most common replaceable pool opening parts required.  In the event we don't have a needed part we can get it quick and provide quick solutions.  We make complicated pool problems simple for you.
2. Purchase a Pentair Prowler Robotic pool cleaner.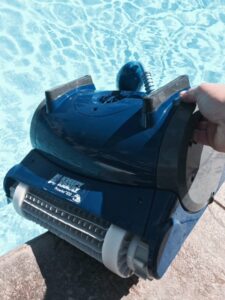 -No word of a lie this purchase will take 7-10 hrs a week of routine pool maintenance off your plate and reduce it to about 1hr a week.  These cleaners will keep your pool clean daily.  Cleaner then having your very own pool cleaning minion.  Let the minion clean while you soak up the sun and suds
3. Safety covers are the best and cheapest way to keep your pool clean through the winter.  Many people opt to make a large winter cover purchase in the fall time just before closing time.  If we open your pool for you we can assess your current winter cover condition and make the best recommendation in the spring.  Place a deposit down for the cover in the spring and then save for the balance at closing time in fall 2017.
There you have it.  3 simple purchases to make your 2017 pool season a success!