Dad's don't get enough credit. Make sure you celebrate him this Father's Day the special way… throw him a pool party! Here are 3 Father's Day Pool Party Tips!
Give Dad a Break
Give your Dad a break! Let Aqua-Tech clean your pool and treat the water so that Dad has more free time to spend time relaxing with his kids this Father's Day.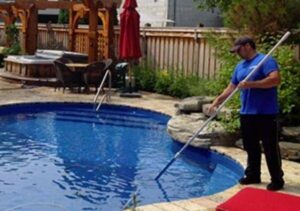 A Showpiece Gift
One of the best ways to show you care is food. Dining with family and friends brings people together. What could be a better way to do that than gathering around an outdoor kitchen with a built in BBQ at poolside? Come in for a personal tour of our spectacular showroom and let Aqua-Tech put together a grand outdoor dining experience for your Dad.  A showpiece that everyone can enjoy for years to come, at any special event.

Give Dad the Gift of Food
When the pool party is over make sure you sit down to a hearty Father's Day meal! Here is one of Aqua-Tech's Father's Day favorite recipes… a Tex-Mex Chicken Skillet!
Tex Mex Chicken Skillet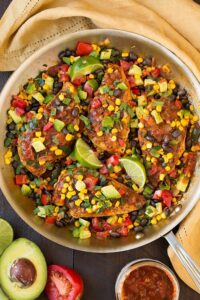 Ingredients
1 lb. boneless skinless chicken breasts
2 tbsp. Taco Seasoning
1 tsp. cayenne pepper
kosher salt
2 cloves garlic, minced
1 small red onion, chopped
2 red bell peppers, chopped
1 15-oz. can black beans, drained and rinsed
2 c. shredded Cheddar
Chopped fresh cilantro, for serving
Directions
Season chicken with taco seasoning, cayenne pepper, and salt.
In a large skillet over medium-high heat, heat oil. Add chicken and cook until no longer pink, 6 minutes per side. Transfer chicken to a plate.
Add garlic, onion, and red pepper to skillet and cook until tender, about 5 minutes. Stir in black beans until warmed through. Transfer mixture to a bowl.
Reduce heat to low and return chicken to skillet. Top with cheddar and black bean mixture. Cover and let heat until cheese is melted.
Garnish with cilantro and serve.
 Happy Father's Day from the Aqua-Tech team!