What's new in our bath showroom for 2019!
If it's new in the bathroom renovation industry then chances are we have it in our showroom. We are the only Winnipeg bath showroom with 2 fully operating custom showers with body sprays, steam and multiple other options. If you're considering renovating your bathroom this year you owe it to yourself to come visit our showroom.
One new  item that's catching interest in the showroom is this lighted mirror. It's a nice seamless look and very functional!
Adding a seat to a shower is a great option. It's important to have it properly installed though with sufficient bracing. Our installers can handle the install at the time of your renovation.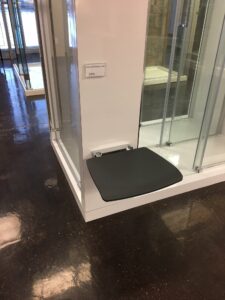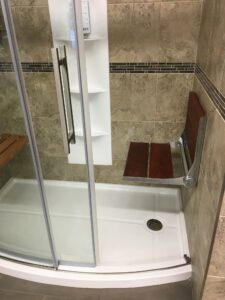 This new cabinet is a pedestal hybrid. You get storage below and still the small footprint to keep the room looking as large as possible.
Storing a blow dryer and hair straightener can be an issue when they're so hot. Consider this pull out drawer in your bathroom vanity.
Many falls occur in the bathroom if you have mobility challenges. This new device is very sturdy and can be added to an existing bathroom. The bar height is adjustable to suit your needs.
These are just some examples to help you with your bathroom remodel. See you in the showroom soon!