What's Listello?
The possibilities are endless in a bathroom. So many colours, textures and finishes to choose from. One thing I believe can be crucial in adding interest to a bathroom is listello. Now, you're reading that and probably thinking "What is listello? Well, it's tile trim, a border, an accent. It can add character and interest to a shower, vanity area, or your entire bathroom.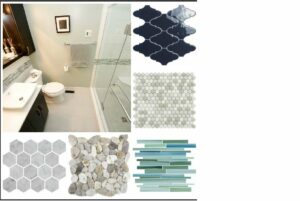 Available in so many different mediums and colours, listello can be so much fun. There is virtually no limit to the type, shape, and colour of tiles you can use. Shapes can range from geometric; circles, squares, rectangles, to organic; found in the natural world around us.
Different mediums include glass, stone, metal, ceramic, and porcelain. And each of those tiles types are available in different shapes, sizes, and colours. Next time you're updating your backsplash, or your whole bathroom, I suggest adding listello.