When the question of how to heat your pool arises, one appliance that demands inspection is a high performance heat pump. Whether you are building a new swimming pool or updating your pool equipment, a heat pump offers an excellent alternative to the traditional natural gas heaters found on most residential pools. Lower operating cost, a reduced impact on the environment, and simpler installation requirements are a few of the reasons pool owners are choosing a heat pump.
Lower operating cost
A heat pump draws heat from the air and transfers it to the water as it circulates through a titanium heat exchanger. The electrical cost to operate the fan is significantly less than operating a natural gas heater. An obvious aid to lower operating costs, regardless of heater type, most pool owners will install a solar blanket to cut down on heat loss through evaporation and cooler overnight temperatures. Supplying and installing power to a heat pump is also less than running a gas line to your equipment pad. The key to utilizing a heat pump is to plan on operating the unit when ambient air temperatures are 10-12C or higher. Think of the heat pump as a slow cooker and a gas heater as a convection oven. Both appliances do the same work. While gas is faster, it's more expensive. With heat pumps, slow and steady wins the race.
Reduced impact on the environment and simpler installation requirements
Environmental impact is immediately lessened without the burning of natural gas – no exhaust . This also makes a heat pump a smart alternative when municipal gas codes require minimum clearances from air intakes, combustibles, and so on… A heat pump essentially needs an 6' x 6' area (most pumps are 3' x3') in order to provide ample air supply, and a level pad as its base. Heat pumps are charged with non-ozone depleting refrigerant and are manufactured with plastic composite bodies that can withstand our harsh Winnipeg climate.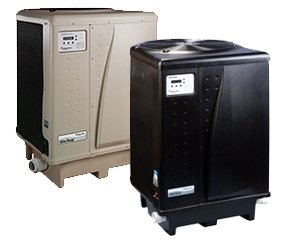 At first glance, a heat pump sounds like the more expensive alternative but the long term outlook says otherwise. If you and your family use your pool often, and like to maintain a constant water temperature – a heat pump is optimal!