Swimming Pool Details for Your Backyard
When we do a backyard design for your personal retreat we have a checklist of 241 details. This blog is only going to cover five of them as there are too many to discuss them all.These details below are not the most or the least important….just 5 items from recent sites in Winnipeg that can illustrate the importance of details.
#1– Plant selection from a certified designer.
Aqua-tech has won numerous Canadian design awards against some tough competition from the rest of the country. The award is often won or lost by the surrounding landscaping. We can provide a proper plan as shown below and then complete all the landscaping in-house with our own craftsmen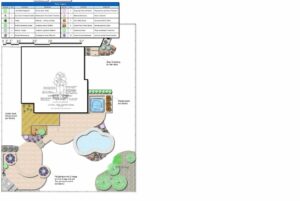 #2 – Your backyard should be a place you want to be in at least 3 of the 4 seasons.
"Build it and they will come.if you invest in a great plan and some important options you will want to spend time in your backyard resort. Consider colour, proper plant selection means new colour for new interest with every season. Fall colours and patio firepits extend your backyard use
#3– The entrance to the backyard can simply be a gate but consider an arbor or a winding path to create some interest
#4 – Big is not better…a larger pool that sacrifices patio space for proper patio furniture is not a good design. You will spend as much time on the patio as in the pool if not more so plan for this occurrence. The patio furniture in our showroom can help you choose for your sitting and lounging needs and then the patio can be designed to suit
#5 – Options that will enhance the environment are water features, loungers, outdoor kitchens, hot tubs and fire pit tables. They require space planning and sometimes rough ins for gas or electrical
We can help with the next 236 details…if you'd like to come in for a free consult please contact us today!!