Something "Classic" is to be of the highest quality and outstanding of its kind. I believe that a traditional style bathroom is classic and elegant; a timeless combo. A white and black colour scheme with a pop of shiny fixtures fits the bill.

Take this bathroom for example. A balance of black and white products throughout the space, with this gorgeous freestanding, claw foot tub as the room's focal point. Eye catching and breathtaking, yet at the same time simple and classic.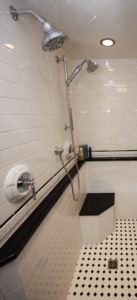 Upgrading doesn't have to mean modern. This space brings light to our capabilities of renovating your bathroom, with the ability to keep the charm of your character home alive.