An often overlooked factor that helps to enhance your spa experience is choosing the right hot tub cover lifter. If you do not have a hot tub cover lifter, you are probably struggling with your cover's bulk, and potentially damaging your cover every time that you go for a soak. Without a lifter, removing most spa covers is a two person job. With the multitude of options, the more you identify your needs and decide which features are must-haves, the easier the selection of a hot tub cover lifter becomes.
Choosing a hot tub cover lifter that fits
The obvious first consideration in purchasing a hot tub cover lifter is finding a model that fits your spa. Documenting the shape, dimensions, and radius corner size (if applicable) of your tub will help to focus your search. Most lifters are designed to universally fit most spas, but lager models will require extensions.
Another  variable is your hot tub's installation. Whether your spa is free standing, recessed into a deck, indoor or outdoor, the clearances over and around your spa will point towards the best mounting position: side-mount; under-mount; or deck-mount.
Side, under mount or deck mount
The side-mount style is the most popular lifter as it affords tighter clearances, and offers a privacy / windbreak feature. Plan to install the side mount lifter opposite the side where the control panel and equipment bay is, in order to allow quick, easy access for service and maintenance.
The under-mount lifter is not attached to the tub and uses the weight of the water to hold the lifter in place. The spa will have to be empty to install this style as you will have to raise one side approximately 1" in order to slide the mounting plates underneath.
The deck-mount offers all of the features of a side mount lifter along with mounting brackets that allow a lifter to be installed onto a spa that is recessed into a deck.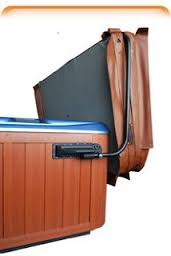 Try before you buy
These are the three main types of lifters that are in stock, every day at Aqua-Tech Pool Spa and Bath. As most spas are outdoor installations and subject to our sometimes harsh conditions, all our lifters are made with powder-coated aluminum tubing – light weight and built to last. The showroom has all models on display call to make an appointment to try all of the models and see what fits your hot tub best.