Imagine stepping into your own backyard and being greeted by the soothing embrace of warm, bubbling water, under a canopy of stars or the gentle caress of the morning sun.
This dream can be a reality with 4-person hot tubs, the perfect fusion of luxury and intimacy.
Designed to fit seamlessly into your lifestyle, these hot tubs offer not just a retreat from the daily grind, but a sanctuary where relaxation meets socialization.
Whether it's a quiet evening of rejuvenation or a lively conversation with friends, 4-person hot tubs transform ordinary moments into extraordinary experiences, blending the therapeutic benefits of hydrotherapy with the joy of togetherness.
In this guide, we're diving into the exciting world of compact hydrotherapy.
Not only will we be exploring the benefits of smaller spas and guiding you through the process of choosing the perfect model, but we're also sharing three models that are sure to captivate your guests while elevating your self-care time.
Read on, and get ready to fall in love with a whole new lifestyle!
The Benefits of 4-Person Hot Tubs
If you're yearning for a space to unwind and connect with loved ones, look no further than cozy 4-person hot tubs.
These compact yet luxurious spas offer a range of benefits that make them the ideal choice for intimate gatherings.
Take a moment to explore the reasons why these spas deserve a spot in your backyard sanctuary.
Therapeutic Benefits
There's no denying the allure of plunging into warm water and enveloping yourself in a soothing atmosphere.
4-person hot tubs are a gateway to relaxation, providing numerous therapeutic benefits.
The heat of the water helps reduce muscle tension, alleviates joint pain, and promotes better blood circulation.
A relaxing soak in a hot tub also helps prepare your body for a good night's rest, improving the overall quality of your sleep.
The warm, bubbling waters help unwind your mind, alleviate anxiety, and ease you into a deep slumber.
Say goodbye to counting sheep and say hello to waking up refreshed and rejuvenated each morning.
Furthermore, the outdoor spa environment provides an opportunity for meditation, self-reflection, and escaping the chaos of daily life, all while taking in the emotional benefits of nature.
Create a mini oasis designed for mental and physical rejuvenation, and bask in a world of pure bliss.
Space Efficiency
Not everyone has the luxury of vast outdoor areas, but that doesn't mean you can't enjoy the comfort of a hot tub.
4-person hot tubs are designed to efficiently maximize any space, making them perfect for small outdoor areas or limited backyard space.
These compact models offer all the functionality and comfort of larger hot tubs without sacrificing valuable real estate.
With their smaller dimensions, these spas allow for easy installation in tighter spaces, so you never have to compromise on having your personal relaxation haven.
4-person hot tubs truly blend seamlessly into smaller backyard layouts, so you can transform your intimate outdoor space into a private retreat.
Socialization
A 4-person hot tub provides both the setting and the excuse for meaningful connections with friends and loved ones.
Break away from the distractions of technology, gather around the comforting waters, and immerse yourself in conversations that nurture lasting bonds.
With its compact size, 4-person hot tubs invite connection, laughter, and shared experiences.
Whether you're hosting a small gathering or enjoying a peaceful evening for two, a small hot tub sets the stage for interaction and bonding.
Bask in the warmth of the water and let genuine conversations flow naturally.
By choosing a cozy 4-person hot tub, you're not only investing in a backyard sanctuary but also unlocking a multitude of benefits for relaxation, socialization, and mental rejuvenation.
Stay tuned as we delve deeper into the realm of 4-person hot tubs and explore factors to consider when choosing your perfect oasis.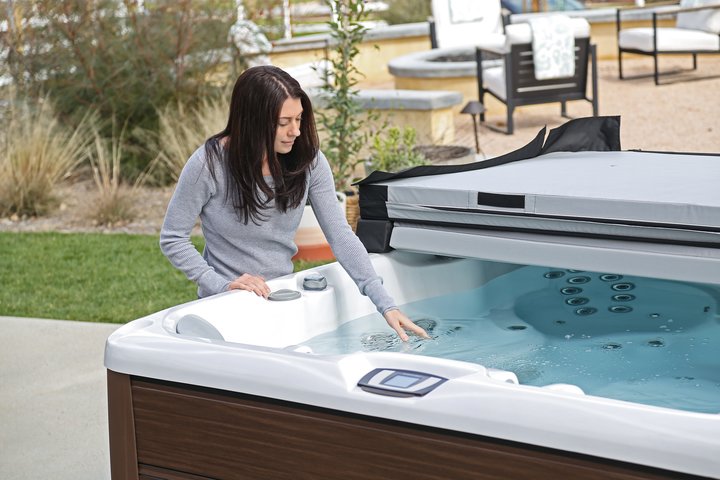 5 Steps to Finding The Perfect 4-Person Hot Tub
When it comes to selecting the ideal 4-person spa for your intimate gatherings, there are several factors to consider.
Aqua-Tech understands that choosing the right hot tub involves finding the perfect balance of size, features, and budget.
Below, we provide guidance on selecting the hot tub that ticks all the boxes for your specific needs.
Step 1: Pick The Right Size
One of the first considerations when choosing a 4-person hot tub is its size.
While the number of seats is important, the footprint of the model itself is even more crucial to consider.
Before beginning your search, measure your space and determine how much you're willing to allocate for your new home spa.
This will ensure the model you choose not only welcomes you and your loved ones into a warm embrace, but also seamlessly fits into your space without making it feel crowded.
Step 2: Consider Seating Options
The seating configuration plays a crucial role in creating a comfortable and enjoyable experience.
Look for hot tubs with ergonomic seating and varied jet placements that target different areas of the body.
Hot tubs come with a range of seating options, including loungers, captain's chairs, and bench seats, allowing you to find the perfect configuration for your relaxation needs.
Step 3: Explore Various Features
From adjustable jets and soothing air systems to Bluetooth audio integration and LED lighting, hot tub features can enhance both your comfort and entertainment.
Explore features such as hydrotherapy massage jets, waterfalls, ozone generators, and energy-efficient heating systems.
Step 4: Prioritize Energy Efficiency
As you enjoy your hot tub gatherings, it's essential to consider the long-term costs.
You'll want to find a spa that includes energy-saving technologies, insulation, and efficient circulation systems to minimize energy consumption and keep costs to a minimum.
This allows you to relax and unwind while being mindful of your energy consumption.
Step 5: Set a Budget
Setting a budget for your hot tub purchase is a crucial step in ensuring that your dream of a relaxing backyard oasis aligns with your financial reality.
Hot tubs come in a wide range of prices, influenced by factors like size, features, brand, and installation costs.
It's important to consider not only the initial purchase price but also ongoing expenses such as maintenance, repairs, and utility costs.
To make this luxury more accessible, financing options are available, allowing you to spread the cost over time.
This means you can enjoy the benefits of your hot tub immediately without the pressure of a full upfront payment.
Remember, a hot tub is an investment in your home and well-being, so careful budgeting and thoughtful financing can make this indulgent addition a reality without financial strain.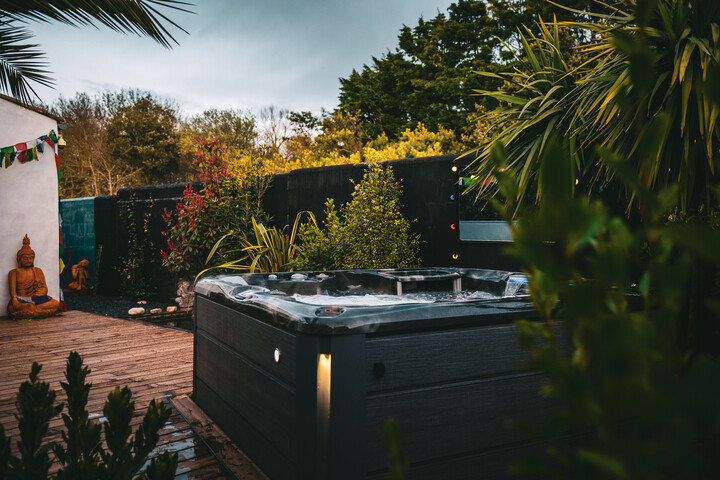 Awe-Inducing 4-Person Hot Tubs From Sundance®️ Spas
Sundance®️ Spas, a renowned brand in the spa industry, has been revolutionizing the world of hot tubs for over four decades, challenging the industry standard and driving innovation.
Boasting a diverse range of products tailored to various needs and budgets, this brand offers a unique blend of comfort, durability, and advanced features, ensuring everyone can find a model that seamlessly complements their lifestyle.
Here are three of the best 4-person hot tubs they offer.
The Marin®️ Model
The Marin®️ model is a 4-person hot tub that's perfect for intimate gatherings.
With 45 jets and an Accu-Ssage™ Therapy Seat, this model offers a deep, full-body immersion experience from every seat.
The UV-resistant synthetic SunSide cabinetry with corner lighting enhances its visual appeal, while the illuminated status light provides a quick indication of your spa's status.
What sets the Marin®️ spa apart is its variety of seat heights, including a lounge seat for ultimate relaxation.
It also features Multicolor SunGlow™ LED lighting and Silent Air® Injector Jets, which deliver a gentle tissue massage while releasing the aromatic scent of your choice into the air.
The Montclair®️ Spa
If you're looking for a compact yet powerful hot tub, the Montclair®️ spa is the perfect choice.
With 30 jets and CLEARRAY® UV-C Technology, this 4-person spa offers an effortlessly clean experience, while its low profile design allows for easy entry and exit.
The Montclair®️ model, part of the 780™ Series, features a petite lounge seat and a unique seat beside the lounger for a side-by-side massage experience with your loved one.
What sets the Montclair®️ spa apart is its Series-exclusive Accu-Pressure Therapy, which relieves achy muscles and provides deep-tissue pressure.
With its combination of compact size, modern design, and therapeutic features, the Montclair®️ Spa is the go-to option for couples looking for relaxation and rejuvenation without compromising on shareability.
The Bristol™️ Model
The Bristol™️ model is a sophisticated 4-person hot tub that offers both style and functionality.
With 38 jets and the CLEARRAY® Active Oxygen™ Clean Water System, this spa ensures clean and fresh water every time you soak.
What sets the Bristol™️ spa apart from others is its thoughtful design.
It features a special spiral-action lounge seat for a unique shoulder-to-toe hydromassage experience and the Accu-Pressure therapy seat for powerful tension relief.
Furthermore, the foot jets nestled in an asymmetric dome provide targeted foot massage, easing weary feet after a long day.
With bench seating, the Bristol™️ model effortlessly transitions from engaging conversations during the day to an intimate retreat after sunset.
Common Hot Tub Questions
1. What are the benefits of having a 4-person hot tub for intimate gatherings?
A 4-person hot tub provides an intimate setting for you and your loved ones to relax and create lasting memories. Not only does it offer a space for relaxation and rejuvenation, but it also promotes wellness by improving blood circulation, relieving muscle tension, and reducing stress and anxiety.
2. What should I consider when choosing a 4-person hot tub?
When choosing a 4-person hot tub for intimate gatherings, it's important to consider factors such as size and seating capacity, and comfort features like ergonomic design and adjustable jets, energy efficiency, ease of maintenance, and additional amenities such as lighting, sound systems, and water features.
3. How can I enhance the ambiance of my intimate gathering with a hot tub?
You can enhance the ambiance of your intimate gathering with a hot tub by adding external lighting, such as LED strips or soft twinkle lights, creating a cozy and romantic atmosphere. Additionally, playing relaxing music through built-in sound systems or portable speakers can also elevate the mood.
4. Is it difficult to maintain a hot tub?
Maintaining a hot tub is relatively easy with regular care and upkeep. It involves maintaining proper water chemistry, cleaning and sanitizing the tub, and regularly checking and maintaining the filtration system.
Shop 4-Person Hot Tubs in Winnipeg at Aqua-Tech
It's clear that these delightful havens offer much more than just a place to soak and relax.
They are a testament to the joys of shared experiences, a fusion of wellness and companionship, and a practical yet luxurious addition to any home.
Whether it's for health benefits, enhancing relationships, or simply enjoying a slice of serenity, a 4-person hot tub could be the perfect investment in your well-being and social life.
At Aqua-Tech Pool, Spa & Bath, you'll find everything you need to create the backyard of your dreams.
Our showroom is stocked with a wide selection of premium home leisure products, from hot tubs and swim spas, to patio furniture.
Contact us today, or visit our showroom in Winnipeg to get started.