Like most projects around the home when you first consider the idea it seems relatively simple. Then when you start to delve into the details there are more things to consider. Consider buying a hot tub from a company that can provide the full scope of the work required to install a hot tub. At Aqua-tech our goal for a hot tub install is like a bathroom reno or a new pool…….we will make this very easy for you because of our attention to detail and experience. A well run company will take a complex project and makes it simple…..conversely another company might take a simple project and make it very complex. Ease of ownership is what we are all about so you can enjoy the product and the process! Below are the top ten items to consider for a professional hot tub installation.
Building permit
Yes, you will need a building permit from the City of Winnipeg. We charge a nominal fee to look after this as we know what is required and what departments are involved.
Location
There are City setbacks to your property line to consider as well as Manitoba Hydro rules. We do complimentary site visits so you pick the correct location. One should consider privacy, access to entrances and elevations among other things.
Base for the hot tub to rest on
A hot tub full of water and people is around 5,000 pounds so a proper base is required. Aqua-tech is fortunate to have a large construction component to do all this work for you.
Delivery of the hot tub
Moving a hot tub is like moving a grand piano. Specialized moving equipment is so helpful you should leave this to the experts.
Electrical wiring
We include the wiring and electrical permits in our prices. There are jumper pins in the control panel that only experienced electricians will be aware of. This is an expensive control panel to replace if it's wired incorrectly. Plus it will be done to code so you and your insurance company are both satisfied.
Cover lifter installation
Most hot tubs now come with a cover lifter to make it easy to remove the cover. As an added service we include that in our delivery as it is important it is installed correctly.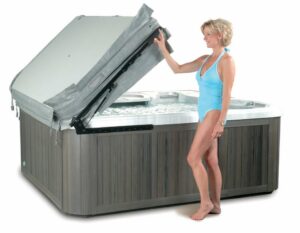 Fill the spa and start up
How many times have you brought something home only to have it not work? Talk about taking the excitement out of the new purchase. A professional installation won't leave until it's up and running.
Demonstration of the hot tub controls
Another item that is included in our "white glove" delivery process. Yes you get a manual but isn't this better?
Water chemistry and ease to keep the water clear and safe
Aqua-tech is known City wide for the best water lab and advice when it comes to keeping your pool and spa ready to use.
Service and parts
It amazes me sometimes that people are willing to spend $5,000 to $20,000 on a product but don't look around where they buy it to make sure there is a parts and service department. It's not if, but when, that you will need some sort of assistance.
Consider these benefits when you choose a hot tub and you will never regret the decision!
Happy Hot tubbing!