CONGRATULATIONS! After months (or years) of waiting and planning you are ready to renovate your bathroom. There are many details to have a smooth and comfortable renovation process. Want to know the 8 easy mistakes to avoid when you are renovating your bathroom? Read on…
The #1 mistake is… WATER –friend and foe
The point to a great bathroom is that it centres around everyone's favourite resource – WATER. Although it is necessary for that steamy shower or relaxing soak, it is also the number one cause of long term pain.
A. Make sure to consider ventilation. When a small space like your bathroom has poor ventilation, it is uncomfortable. Exposure to long-term humidity and condensation can cause fixtures and surfaces to age. Install an efficient exhaust fan that IS VENTED OUTDOORS. Consider one with a humidity sensor that turns itself off and on!
B. Incorrect or inadequate waterproofing. Preventative measures such as waterproof membrane, specialized drywall and proper primer are necessary. Even if you don't see them it doesn't mean their job is not important. Water will find that teeny and tiny weak spot and take all the work and planning you have invested and compromise it.
Mistake #2: Underestimating storage requirements.
Take a look at your Pinterest board – what is a perfect bathroom for you? Usually it is clean, simple and
sparsely
decorated. But is that what you need everyday? Your bathroom
is filled
with necessities – towels, toiletries, hairdryers and potpourri. The challenge with these items is they are ugly and messy. The last thing you want is a house guest staring at a wet towel and your toilet paper stock from Costco. So, what to do? Create smart storage! Plan an appropriate place for everything with drawers and doors. Heated towel rails are a new necessity to hold lots of towels AND make sure they are always warm, soft and fluffy.
Designer tip: Get a clean and modern look by creating recessed areas over sinks and basins. Install two or three in a row and make them a focal area for daily necessities and even your favourite candle. With some strip lighting under your mirrored shaving cabinet and, boom! You have
amazingly
functional storage, with minimal cost and high style.
What is mistake #3? Not consulting a professional designer.
We all know what is best for us and our family and we have TONS of ideas! It is a little room and so straightforward, right? WRONG! Is your current floor planning the best use of space and flow? What about the structure behind the beauty? Is the sexy tile durable enough for the shower floor of a family of 4? What about where to put that light – can my electrical accommodate that? Use the experience and expertise of a design team. A designer not only has the ability to map out your project, but to educate you as well. They may even tell you about the newest heated toilet seats!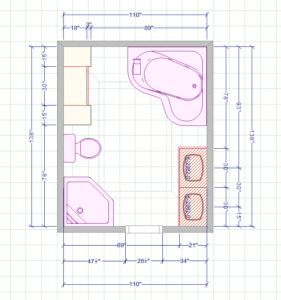 The #4 mistake is TOO MUCH OF A GOOD THING.
Overcrowding in your bathroom remodel is so tempting! I want everything on my wish list in my 5' x 9' room – why can't that happen? Have you ever used a toilet too close to a wall? How does that feel? Don't let that be your bathroom. Make a true list of needs and wants and think hard about your layout.
Just
because it looks this way now before renovating does not mean you can't move some things around. Maximize space as much as you can. Hang wall cabinets, give yourself enough elbow room in the shower to actually reach up and wash your hair.
Designer tip: If you change the side your bathroom door swings, will it improve your use of space? High five!
Mistake #5: underestimating electricity needs
Your razor, blow-dryer and hair straighteners needs to
be plugged
in somewhere. Do
multiple
people need to get even more good looking…all at the same time? Your vanity needs to have a GFCI outlet (or two or 3) nearby. Have you ever had to try and use an extension cord everyday to
accomplish
your beauty routine? Do you have electric toothbrushes that need charging?
Maybe
one day you will. Small areas like your bathroom get cluttered
quickly
, and with the smallest of things. Have enough outlets for everyone and everything. Multiple electrical plugs in wall outlet, dangerous concept.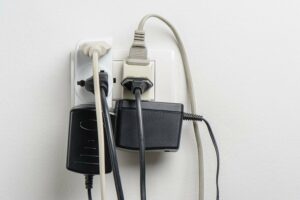 What is mistake #6 you ask? POOR LIGHTING!
Let's be honest, you and your family are BEAUTIFUL! Make sure you can see it! If you ask the designers, they will tell you lighting is all about flexibility and balance. Use the right thing at the right time for the right job. There are 4 types of lighting that you need to think about in all spaces: task lighting (for makeup application or shaving), ambient lighting (for the mood you want – relax or energize), accent lighting (to set off the focal points you have worked so hard to create) and natural lighting (like a window or that long awaited skylight!). A lighting plan allows for all times of day. Poor lighting can make or break a room.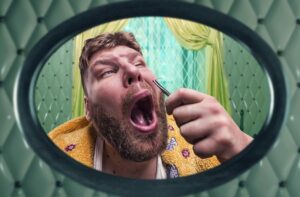 The 7th mistake that is easy to avoid is fixture selection.
Now is the time to
really
think about the placement of your shower, toilet and sink – are they in the best places? Choose the right sizes as well as styles. Is your toilet the focal point of the room right now?
Maybe
shake it up a little and make the shower the apple of everyone's eye. Do you have the opportunity to separate your shower area from the toilet and sink? Can your home support the dream soaker tub or 6 body jet shower system?
Mistake number 8, and it is an important one…. buying on price alone.
Yes, there are so many old adages of you get what you pay for, but they come from a good place. Everyone wants the best deal – especially here in Winnipeg! So, what is the problem? A bathroom is one of the most used, most important rooms in your home – image buying a house without a bathroom. – that is RIDICULOUS! Dollar for dollar though you do need to spend more per square foot than any other room in the house. Budget wisely.