Outdoor Dining
Weather you have a screened in porch or an open deck, there's just something magical about dining outdoors. Nature all around you, a warm breeze with the smell of lilacs, and unforgettable company.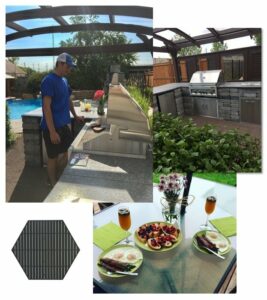 Who doesn't love BBQing?! You can grill just about anything. An outdoor kitchen really extends your living space and can make meal prep a lot easier. With integrated sound systems and fridges, you have all the necessities for a great party.
The thing about outdoor dining is that you can make any space in your yard a dining room or entertainment area. There are no rules. In today's market, there is a large selection of dining table styles. Rectangles, ovals, squares, circles, and even hexagons. Have you ever considered a hexagon dining table or how about a fire pit table? I know I love finger food, and fire tables are perfect for sitting around and enjoying an arrangement of appetizers. With the option of a lazy-suzan fire cover, you can rotate the snacks all around. Fire tables make for a cozy, warm, intimate setting.
Summer in Manitoba is short, so get out there and enjoy some outdoor dining!