The holiday season can be a stressful time but we can help with that!  Relax with one of our great holiday hot tub must haves for you and your hot tub.
Skin Care
As temperatures drop, our skin can take an absolute beating, revive it with one of our Spazazz Therapy Soaks. These are on the top of our list of hot tub must haves! With an assortment of fabulous scents to choose from, including Detoxifying, Energy Boost and Relief you can enjoy the holidays once again. Don't forget about those sore muscles, with our  Hot n' Icy Spazazz soak you will be back to holiday shopping in no time! Skin care goes further than just a soak in your favorite fragrance from Spazazz, our SpaGuard Optimizer Plus also has a very pleasing fragrance and helps not only your spa water absorb calcium and other water balancers but also makes your skin feel silky smooth and rejuvenated!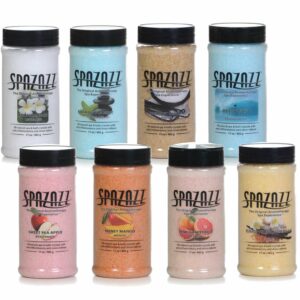 Stock up on hot tub must haves!
…and I'm not just talking about stocking stuffers! Stock up on your favorite spa filter cleaner to keep those filters clean & bright around the holidays, you can invite your in-laws to a holiday hot tub party with confidence with a clean and fresh filter! Choose from either SpaGuard Filter Brite or Mineraluxe Filter Revive to get things squeaky clean!
Traditions
Creating an exceptional hot tubbing experience for you and your family is our mission all year round however some folks love to get the hot tub ready traditionally for cooler weather. Putting on a soft cozy toque and your favorite swim suit make for a wonderful holiday-season-soaking-experience. Make sure your spa is spotless for when you start it up for the cool-weather season. We can help! Swirl Away can get things flowing again. With a quick soak for an hour with the pumps running, Swirl Away will clean away any debris or scale build-up from last years' use. Remember to take your filter cartridges out before this step (but since you're probably soaking them in SpaGuard Filter Brite anyways you're probably good to go for this step)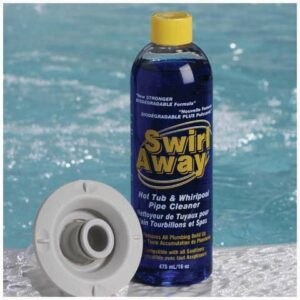 Include the nieces & nephews!
For the little kiddos who enjoy a little holiday hot tub soak, get them in the tub with a Life spa & hot tub essentials booster seat to help even the little ones enjoy an Aqua-Tech hot tub experience!
Trio
Definite on the list of hot tub must haves! The easiest spa water balancing kit on the planet will last you 3 months with your choice of either Soft Soak Bromine or Soft Soak Chlorine as you sanitizer of choice. This easy-peasy spa system will make spa care a breeze so you can get back to wrapping gifts and decking the halls. Trio is a three step system that will take you through the holidays stress-free! Maintaining a hot tub should be stress free and most people use their spas to relieve stress on a regular basis, not create more, but when we have added errands to run  during the holidays why not make it easy with Trio! Come in and see us and we can give you a personal introduction of how Trio can make your life easier not just during the holidays but all year round!