Thanksgiving is just around the corner. Friends and family will fill your homes with love and laughter. While you and your friends and family all sit down on Thanksgiving to enjoy your delicious, buttery turkey, wonderful, pillowy soft mashed potatoes, and the most delectable pumpkin pies, you may be wondering how to elevate this ever-traditional, staid holiday. My answer to this: hosting a Thanksgiving hot tub party (of course)… Actually, there are plenty of studies showing that hot tubs aid in digestion, which may be exactly what you need after a full turkey dinner! Furthermore, you and your guests may want to relax after all of the hustle and bustle involved in preparing Thanksgiving dinner. Here are four fantastic must have hot tub chemicals for your Thanksgiving hot tub party which will elevate it from ordinary to extraordinary!
Filter Brite
With plenty of people coming over for your big Thanksgiving party, you want to make sure that your filters are working fantastically so that they are able to filter out all of the oils, greases and body lotions which will be coming off of you and your guests (as well as some of the greasy turkey and gravy which may have accidentally ended up all over you and your guests during dinner)! You can easily have clean filters, ready to filter out all of the wastes by either purchasing new filters, or by cleaning your existing filters with Filter Brite!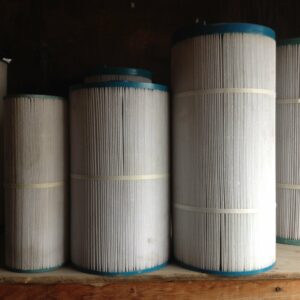 Chlorine or Bromine Tablets and Granules
Prior to all of your guests arriving, you want to make sure that your hot tub is properly sanitized with the proper hot tub chemicals. You wouldn't want your guests bathing in water that still has remnants of adult beverages and other wastes from last weekend's "all adult" party. By using chlorine or bromine tablets and granules, you can make sure that your guests are soaking in clean, waste-free water.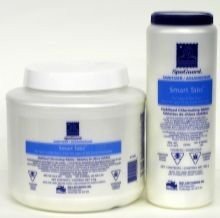 Optimizer Plus (Bioguard) or Performance Plus (Dazzle)
Want to make your water the talk of the town? We have the perfect hot tub chemicals for this! Simply add the recommended dosage of Optimizer Plus or Performance Plus! Impress your guests with your silky smooth and crystal clear water. Plus, both Optimizer Plus and Performance Plus also have algaecidal properties which will prevent algae growth and keep your water nice and sparkly blue!
Spa Lite (Bioguard), Amaze Plus (Dazzle) or Oxygen (Mineraluxe)
Once your Thanksgiving party is over, odds are that you are going to want to use your hot tub pretty soon. Rather than bathing in a hot tub full of the grease from the turkey and gravy that you just enjoyed (as delicious as that may sound, it is not healthy for you or your hot tub to be soaking in these wastes), you can use Spa Lite, Amaze Plus or Oxygen, to easily oxidize all of the wastes out of your hot tub, so that both you and your hot tub can have a clean bill of health after all the extravagances of Thanksgiving!
As usual, we wish your happy hot tubbing and remind you to relax and enjoy this exciting season (and to eat a lot too)!
Happy Thanksgiving from the Aqua-Tech Family to yours!