Download the FREE Ebook 6 Common Salt Water Myths? Discover the Simple Truths Behind Keeping Your Salt Water, Safe, Sparkling and Clear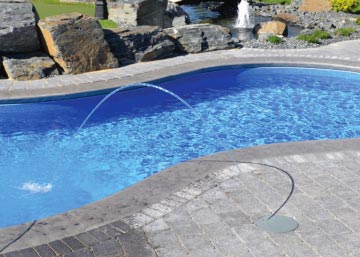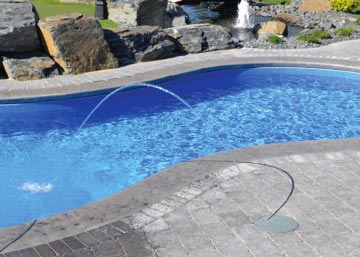 Salt pools are becoming increasingly popular with homeowners and are renowned for being gentler on skin, eyes and ears making for a more pleasant experience than other forms of water care. However salt water pools need specialist care to ensure the water chemistry stays balanced. To ensure your salt water pool is always ready for you to enjoy, choose Aqua-Tech for your specialized salt pool diagnostics—we know salt.
Unique Salt Water Requirements
With estimates indicating that 50% of Canadian swimming pools will make the switch from chlorine to salt and 95% of new pools will use salt water by 2020, there's no doubting the popularity of this option. Did you know that salt water is not a direct replacement for chlorine? To establish the optimum chemistry and ensure your salt water pools stays in the condition you want, getting the water balance correct can require more effort and attention to detail than a traditional chlorine pool. Once your salt water is balanced, it can be on the whole easier to maintain, although it will require precise weekly maintenance to prevent premature wear and tear on the components.
I made the decision to travel across the city to you guys and I am very pleased with the service and assistance to say the least. You should be very proud of what you have accomplished and to see an owner of a company wearing coveralls and still being hands on is refreshing.

— Bill
Specialized Care and Attention
Once there's a problem in your salt water chemistry, it can be difficult and time consuming to fix. Salt pool chemistry isn't a direct substitute for chlorine pool chemistry and addressing any problems can include several steps that you might not be used to. Don't wait until the red light comes on to have us complete your diagnostic. When your pool turns cloudy or green, it can cost up to $800 to fix. Regular water testing and analysis will save you considerable money and stress in the long term.
Exclusive Relationships and Unique Products
Aqua-Tech's decades in business have resulted in many exclusive relationships with salt water manufacturers including Pristiva so we can offer our customers the best care products available. You'll be amazed at how your water feels with our high quality Mineral Blends solutions.

We know salt! Call us today to ensure your salt pool stays crystal clear, sparkling and comfortable all season long.