Tile is still the number one choice in the bathroom renovation. Yes, there are alternative products but the advancements in tile, tile grout and backer board have kept tile very popular. Plus you can't beat the aesthetic appeal of tile. In the past some of the backer boards and grouts have led to higher maintenance with tile. When you come into our showroom, we can show you how the improvements in technique and materials make tile the number one choice. For now, here are a few things to consider when shopping around for bathroom tile ideas.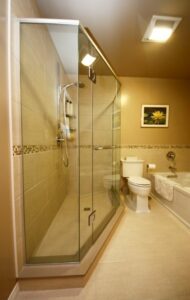 Tile is often used in four locations in the bathroom… the floor, walls, shower area and shower ceiling. Floor tile is often colour coordinated with the wall tile and includes in floor heat. The in floor heat is a huge advancement that every customer raves about after the renovation. Floor tile is also the most sanitary for clean up and has a very long life.
Wall tile keeps the walls easy to clean and typically has a listello accent that carries through into the tub or shower area. Glass tile is a popular accent for listello. The glass tile is more per square foot but as an accent there is very little quantity required.
Shower tile should have smaller pieces for the floor to add grip for the user's feet. We have added in floor heat for these areas as well. The walls of the tub or shower typically have the wall tile continue right to the ceiling. This keeps the moisture inside the area as opposed to older cheaper methods where the tile ended part way up.
Kohler has a new composite material available for 2016 for the shower or tub walls. We have recently added it to our showroom display…it may be the right product if you are after a contemporary look.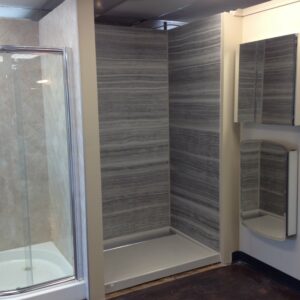 The shower ceiling tile should be 6 x 6 or smaller for installation reasons. Anything larger will be too heavy to keep the tile in place while the mortar bed sets up. We often use a diagonal pattern on the ceiling…almost makes for a quilted 3d appearance.
Browse our gallery of work for more ideas or come into our showroom to talk to one of our designers.
Happy Renovating!