Hot Tub Backyard Design Tips
It's important to put some thought into design when you install your backyard spa. There are many stores to simply purchase a hot tub that have zero design assistance for you. Design is about details and the details may make or break the final look.
Consider the following 7 tips from real Winnipeg backyards.
#1 – Purchase your spa from a company that can offer a 3d design of what the final product will look like. This River Heights project started with a great design by Aqua-tech's Sean Mayer.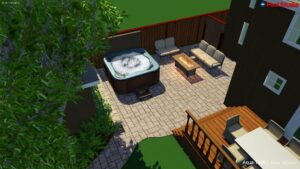 #2 – Purchase your spa from a company that can not only sell the spa but install the patio as well. If the company that designs the backyard is also responsible to install the project there are far fewer design errors. The picture below is the finished project from the design above…..all installed by in-house Aqua-tech craftsmen.
#3 – Consider that some visitors will want to be on the patio while some are in the spa. The spa must not be  too remote from other guests.
#4 – Keep the spa reasonably close to the house door so there is less snow to shovel and hopping in for a quick soak is convenient!
#5– When entering the spa have the adjoining deck lower for ease of access.If the spa deck is even with the hot tub you will have to kneel down further or practically get on all fours to get in the tub.
#6 – Privacy and wind protection will be important in many backyards. Privacy walls with vines can serve this purpose and enhance the spa environment.
#7– Clearances and codes can determine your spa location. Deal with a professional company that is aware of these details! There are property line setbacks, clearances to hydro lines and hydro meters just to name a few.
Come in to view the many models on display and get a free design consult from one of our experts today!