What almost every Insurance Broker will tell you is this advice: if you are not sure whether or not you have coverage on your home and property, make a call to your insurance agency. Once this is done, expect a call back from your Insurance provider; below are some of the items that may come forward.
Pictures and documentation
When an adjuster comes and makes a site visit, a sequence of events is usually a big part of the conversation. As best as you can, put together a time line before and after the situation that you are wanting to explain and illustrate. Get any old photos along with the current state of affairs. It could look like:
In September we had our last swim on 09/267
The pool was professionally closed by Aqua-Tech 10/26
Here is a picture the day the pool was closed
Sometime in January we saw………
On May 15th we took the cover off the pool and we noticed…..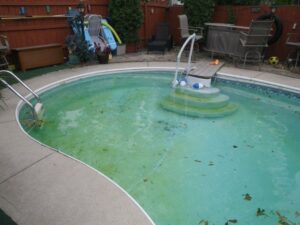 It is always difficult to remember spontaneously what the sequence of events were on things. Take the time to help yourself do a recall.
Use a professional pool company as an insurance resource
When things happen when nobody was around to see it there is plenty of grey area. An experienced pool professional that has seen thousands of pools can make some fairly good assumptions based on key findings. Unless an individual works with swimming pools everyday year in and year out there is no way to be 100% sure about the possible causes of failure without their input. Always engage their assistance when working through your insurance process.
Click here to request your FREE Insurance consultation from Aqua-tech!
What's covered and what's not
There are almost as many policy's as there are pools it seems. What we do know is that many swimming pool vinyl liners each year do get covered under some insurance policies each year in Winnipeg. The definition of why there is coverage will depend on your particular provider and exclusions. Follow up today with your agency to get the most comprehensive coverage that you are able.
Summer can be short at times so this may help to keep you swimming more.