If you're a DIY kind of person, awesome! But when it comes to opening your pool, there can always be challenges and at times, it can be a stressful process. Here are a few opening tips and pool supplies to make the pool opening process as easy as possible!
Tip #1: Raise Your Water Level
Did you know that by raising your water level under the pool cover it helps keep the pool structure more stable and makes cleaning up all the debris a little easier. Before removing your winter cover, raise your pool water as HIGH as possible (without the water on top spilling onto the deck). This will take a little bit of stress off the job and make removing the winter cover a little bit easier.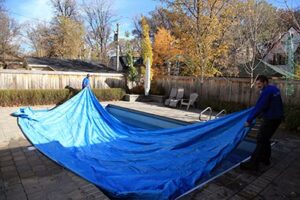 Tip #2: Stow Away
By adding Stow Away to your cover before you close your pool for the season, it minimizes the bacteria growth and will make your cover last longer! Bonus: your cover will smell like fresh lemons in the spring time! This is a MUST HAVE on your next pool supplies list… click here to purchase Stow Away today.

Tip #3: Bright Colored Bag for Summer Pool Supplies
Does it happen to you when spring rolls around and you can't find any of your summer plugs, skimmer basket etc.? Find the most outrageous bag at the dollar store! Pink, lime green, purple, anything and put everything in there. That way when you go into your shed in the spring time you'll know exactly where your summer pool supplies are.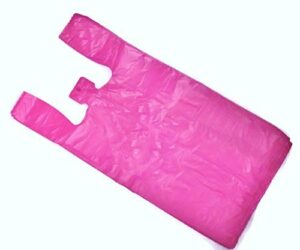 Tip #4: Filter Before Chemicals
We recommend you allow your filter to run for 24 hours BEFORE adding chemicals to your pool. Vacuuming your pool and adding chlorine is fine but let your filter run and circulate for 24 hours to avoid wasting perfectly good chemicals and dollars in your pocket.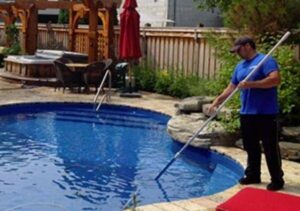 Tip #5: Chemically Clean Filters
Spring time means it's time to chemically clean your filter! If the filter was not cleaned right before you closed the pool, we strongly recommend cleaning it in the spring. Going more than a season without chemically cleaning your filter is the #1 cause for over use of chemicals. That's money down the drain for you and time spent dealing with pool problems instead of enjoying the pool!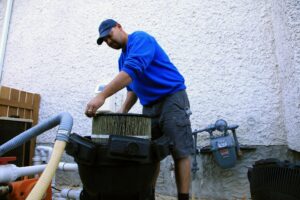 Tip #6: Water Sample
We ask that you wait at least 24 hours after your pump has been running before you bring a sample into Aqua-Tech to get tested. Early water samples can result in incorrect recommendations that your pool may not need.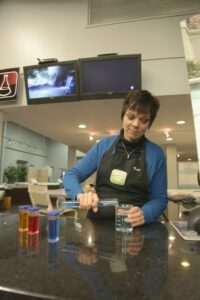 Keep these 6 tips in mind when opening your pool in the spring. When in doubt, let Aqua-Tech do the work for you. For more information about our spring time services, click here.